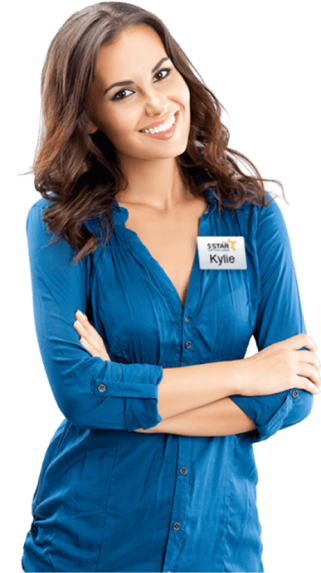 Customer Centered Service

Providing excellent customer service and a positive loan experience is 5 Star Title Loans top goal and we work tirelessly to make this happen for each and every customer.

Loans for Low Credit Score

We don't like turning away customers simply for having a bad credit score. We will work hard to get you a loan regardless of your bad credit.

Easy Application Process

We understand the urgency when getting a loan, so we offer simple options for applying. You can choose to apply either by phone or online.
Products

Car Title Loans

Payday Loans

Bad Credit Loans

Personal Loans

Online Title Loans

RV Title Loans

Process

Apply by phone or online

Complete all necessary requirements

Visit our local if needed

Get your money

Requirements

Car details

Personal details

Car title

Identification

References

Benefits

Keep driving your car

No prepayment penalties

No hidden fees

Quick funding

Personable service
5 Star Car Title Loans in Spokane, WA
At times, we bump into financial crises. There can come a time when our debit card runs out of money or our credit card exceeds the limit and we are left with no other option than to ask for help, that too at a short notice. In such scenarios, 5 Star Car Title Loans can come up as an easy solution.
While approaching banks to get a traditional bank loan and then going through robust & lengthy processes can consume a great deal of time and energy, you can easily get a car title loan in, say, even a day. There is no scope of time wastage as we will assist you without any hassle. 5 Star Car Title Loans will help you at every step of the way.
Title loans are easy, convenient, and smooth that require just basic details and car titles.
What are Auto Title Loans?
Title loans in Spokane WA, which also go by the names vehicle equity loans, auto equity loans, or pink slip loans are secured loans that need a vehicle title as collateral. Usually, a lien is placed on the title until the loan is paid back. To sum it up, you get money on the title of your vehicle. Once you have repaid the loan, the title is returned.
A title loan extends an opportunity where the borrower can keep using the car even if you have placed the car title as collateral. Therefore, 5 Star Car Title Loans are advantageous for borrowers that have little time to go through hefty paperwork and waiting lists.
And because your car title is being used to secure a loan, your credit history does not make much of a difference here.1
How Much Cash Can I Get ?
The loan amount you can get with 5 Star Car Title Loans depends on two factors:
Vehicle's Equity Value
Your Ability to payback.
We will assess these two factors and if your vehicle qualifies, you can borrow up to 75% of the vehicle's value.4
What are the Requirements for Getting Auto Title Loans?
In order to get a title loan in Spokane WA, one needs to1:
Be of 18 years or above
Have a steady income
Own a vehicle in their name
What Documents Are Needed For A Vehicle Title Loan?
These are some of the initial requirements that you need to check to apply for a vehicle title loan. There are a few documents that are required while enquiring for a car title loan at 5 Star Car Title Loans. You need to fill out a short online application and include these documents:
A valid, Spokane WA government-issued Photo Id
Proof of income that includes account statements, pay stubs, etc
Proof of residency (a Spokane WA government recognized mail in your name)
Car title with your name
How To Get An Auto Title Loan? 
At 5 Star Car Title Loans, we strive to offer ease and simplify the whole loan process. So, the whole process has been condensed down to three short steps. And it is only going to take a minute or two! 1
The following are the three easy steps to get a title loan:
Fill out the loan application form to start the process or simply just make a call!
You can initiate the process of a title loan online. All you have to do is fill out an online form wherein you will be asked to provide basic information such as your name, phone number, income details, the vehicle you own, its model, and the funds you need.
Or you can simply give us a call at 5 Star Car Title Loans in Spokane WA and our team will get in touch with you!
You will be asked to turn in a few documents to complete the process. The team will review the documents and let you know if you are eligible for a car title loan in Spokane WA. After assessing your documents, a loan agent will get in touch to discuss the estimate of your title loan and the loan term. process.1
Once our team has approved your vehicle title loan, you will be asked to decide the medium via which you wish to receive the money. And you will get the money transferred to your account or you can get cash in hand (as you wish) shortly!2
Online Title Loans In Spokane WA
For the applicant's ease, we extend a simple solution for online Car Title Loans in Spokane WA.
You can visit the official site of 5 Star Car Title Loans and complete the whole car title loan process by providing the required details.
We extend this online option to facilitate a fast, secure and convenient option, so that your urgent needs are met on time.
Do you need any assistance with your online title loan application?
If yes, the team of 5 Star Car Title Loans will be more than happy to assist you throughout your loan application process.
How Does the Repayment Process for an Auto Title Loan Work?
Getting a little anxious about the whole loan payment is normal for the applicants. But they need to keep in mind that repaying the loan is as easy as applying for a new loan.
Before hopping on to the loan payments, one needs to understand that the minimum loan amount paid will depend on the loan taken and the agreed title loan interest rates in the loan agreement.
Another aspect that needs to be taken care of is the loan due date. These are short-term cash loans the repayment may extend up to three years.
The loan payment has to be made on the same day that has been mentioned in the loan agreement. You can either agree on partial payments or one-time payment, all has to be discussed in the loan agreement.
Various ways to repay title loans:
Via mail
Automated payments via account
Pay online via bank account(s)
Via cell phone
Can I Get a Vehicle Title Loan in Spokane Valley, WA with Bad Credit?
When it comes to a car title loan, there are two factors that are considered: Your income and the value of your car.1
At 5 Star Car Title Loans, we see if you qualify for a loan based on the following two main factors. These factors include:
Your Income: The first step towards qualifying for title loans is to look into the income of the applicants.
This is to ensure that there is a study flow of funds i.e. income and it is one of the primary factors that push you one step closer to a title loan.
Value of your car: As you are using your vehicle title as collateral, the lenders need to know all about your vehicle. From the car's model to the odometer readings, everything needs to be documented.
What Kind of Emergencies Can I Deal with Vehicle Equity Loans?
We understand that in hard times, one needs fast cash and can use title pawns to ensure the fast cash influx.
One can borrow money via vehicle title loan for the following purposes:
Paying rent
Household purposes
Travel
Paying medical bills
Meeting expenses for funeral/marriage/events
To pay credit card bills
To help a friend
So, you can get a vehicle title loan based on your ability to repay for many different reasons.

What Are the Advantages of a Vehicle Title Loan? 
Some of the advantages include:
You can get a title loan online
At 5 Star Car Title Loans, we offer online as well as offline loans based on the applicant's ease and comfort with reasonable fees.
You get to drive your vehicle
Even when you have got a vehicle title loan, you are free to keep your vehicle and even drive it because the loan is not on the vehicle but the vehicle title.
One of the quickest methods
The vehicle title loans are intended primarily to help those who need cash fast. With car titles loans, you can quick approval and even get new loans in as little as one day. 2
Easy to repay
Title loans are easy to repay. You can pay back the lender via online transactions, your cell phone, automated bank account transfers, etc.
Advantages of Using 5 Star Car Title Loans
When in urgent need of money, title loans in Spokane WA come up as a helpful alternative. We at 5 Star Car Title Loans ensure full applicant support and assist you throughout the process, our team is just one call away.
We are here to help you with your immediate cash needs. These are some of the benefits you get at 5 Star Car Title Loans:
Simple steps to get loans
Continuous assistance
Competitive interest rates1
Credit history is not a problem
No extra fees or hidden fees4
What Happens When I Default on my Title Loan in Spokane WA?
Defaulting on a title loan means that the borrower has not met the terms of the loan. In case something like this happens, there are two options that various title loan services include:
Open Communication
In case a borrower finds his financial conditions altering or changing, he can reach out to the loan agent anytime soon. This may help in finding the solution.4
Title Loans Refinancing
Another option that the borrower has in such situations is to refinance. This option is sometimes available depending on your case. With this, the loan may be saved from defaulting.
Why Choose 5 Star Car Title Loans?
5 Star Car Title Loans comprehends that during a financial crisis, one needs money as soon as possible. Therefore, we extend our full support throughout the loan process so that everyone's time gets saved. We offer fast, convenient and reliable methods to help you get title loans in Spokane.