5 Star Car Title Loans Google Reviews:
Excellent if you are in need of a car title loan in Torrance. very nice and pleasant to deal with. Very professional and made sure I understood everything fully.
John Wilson
07:43 01 Dec 20
Title loans get a bad rep because of the high interest but if you're smart about it it can be a great solution. Worked really good for me and I'm happy I chose 5 Star.
Fleur Gregoire
12:11 23 Nov 20
I was beyond stressed because I didn't know how i was going to pay my rent. Thank you for getting me the title loan it was a great help!
Thomas Key
10:02 12 Sep 20
My son is really passionate about music. I took a title loan from 5 Star Car Title Loans to buy him a band set
Carl Rivera
06:17 27 Jun 20
Our TV got busted, so I took a loan, got instant cash, and purchased a new one immediately. Such a fantastic experience!
Luella Pauline
07:35 20 Apr 20
5 stars for the service of 5 Star Car Title Loans Torrance!
clarence overton
09:04 14 Mar 20
I thought that a title loan on salvage title is not real, but when I asked if I could use my broken car as collateral, they accepted it!
Robert Smith
08:10 19 Feb 20
I have a trailer out front that I use for hauling stuff, but I just learned that I could use it as collateral to get a quick loan. That's a great deal for me.
Steinweg Denice
08:03 31 Jan 20
There are banks in Torrance, but I prefered to stay at home and apply for car title loans online. I can do that between loads of laundry and cooking meals and cleaning. It's easy for me and I don't miss that drive through traffic either!
Joshua Paylor
22:58 15 Jan 20
I was helped by Ivan today. He was extremely helpful and very understanding to my situation. I was a bit afraid thinking it was too good to be true but in the end it all worked out and was able to pickup my finds at Walmart with no issues. Thanks again Ivan, you're the best!
Lori Castaneda
02:23 08 Aug 18
About This Location
Stickers and Placas Auto Registrations provides registration services for 5 Star Car Title Loans customers. The store is located at 19401 S Vermont Ave B201-F, near the intersection with Knox Street. If you live in Torrance and in need of registration services, stop by Stickers and Placas Auto Registrations that works with 5 Star Car Title Loans in Torrance. Stickers and Placas Auto Registrations provides our clients with unmatched customer service. 5 Star Car Title Loans does not issue loans at this location.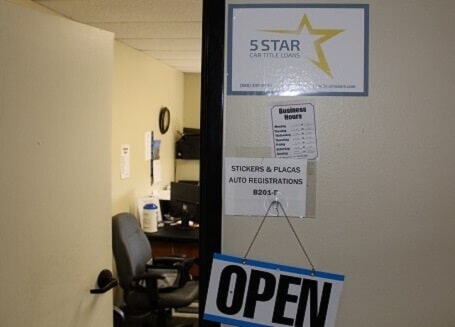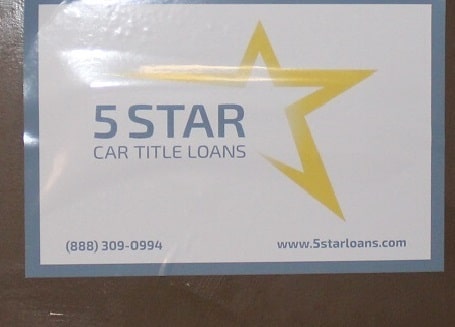 Torrance, California
Torrance is a city with low crime and high tech. There are major corporate offices in Torrance including the U.S. headquarters of Honda. The first Japanese automobile company to move its U.S. headquarters to Torrance was Toyota in 1982 because of the proximity to the seaport as well as LAX Airport. Many other Japanese companies now have corporate offices in Torrance because of logistics advantages as well as the size of the Japanese community. Torrance has the highest percentage of Japanese of any other American city except Honolulu. There are Japanese schools and banks and even a Mitsuwa grocery store.
Extra Money in Torrance, CA
High tech has been a major boom to the economy in Torrance, but if you don't happen to have one of those high paying jobs, then you could find yourself out on a limb. Even though it's not your fault, you might have been out of a job for a short while or stopped work to take night courses. Somehow, if you suddenly found yourself in arrears, then you know how hard it can be to get back in the red. At 5 Star Car Title Loans in Torrance, we give cash loans in the amount of $2,600 and up to the residents of Torrance who own cars. Try us today! Send in your application so we can check your qualifications for a cash loan.
Cash Loans Based on Car Value
We'll check three things when we get your request at 5 Star Car Title Loans in Torrance. The first thing, of course, is the car that you own. We need to know if it's worth enough money to use for collateral. If it is, then we'll go on to the next two things. We'll need to check if you meet our credit criteria and we'll need to know if you'll be able to pay back the loan. If yes to all 3, we might be able to pre-approve you in your own home!
All Applicants Accepted at 5 Star car Title Loans in Torrance
We can even approve applicants with bad credit because of the way we base our loan requirements in 3 steps. If you meet those 3 steps, then your credit history is not so important to us. If approved, 5 Star Car Title Loans in Torrance will be a lien holder of your car, but you can keep your car and drive it.