5 Star Car Title Loans Google Reviews:
You guys are great at what you do and I am happy to write this review and encourage others to use 5 Star Car Title Loans for their financial needs. THANK YOU TO EVERYONE HERE FOR YOUR HELP!
Conrad Ashleigh
20:03 09 Mar 21
They are very kind and understanding. I am so glad to have come to 5 star to take a car title loan I wanted...
Rachel Wheeler
20:49 12 Feb 21
Great customer service! Everything was surprisingly fast and the process was smooth with no issues. I would recommend them to any personal that needs a loan and has credit problems like a low FICO score.
Alison Powell
11:29 02 Feb 21
I searched online to find a good title loan lender and came across this one. They turned out to be good, took longer than I expected but I got what I wanted. Really nice customer service agents.
Kecia Joyner
10:35 20 Jan 21
These guys know how to make stuff happen! When no one else would help us they were there. Their process of getting cash for the title is easy and very quick.
Sandy Michell
10:06 08 Jan 21
The process is so painless this is truly the best place to get title loans. I will for sure come back if I need another loan.
I am a former customer they are great and friendly I was treated amazing when I went there for a personal loan in Ventura. I will advise anyone to call them for loans.
Yvonne Hinson
16:42 30 Aug 20
It was an amazing experience getting my loan through Car Title Loans. I really had a bad credit score, and almost dozens of banks denied sanctioning a personal loan for me. Fortunately, this company explained to me their entire procedure to make use of an old car standing in the garage for a long time. I successfully received the entire amount yesterday with limited formalities. Excellent!
Christian Thomson
15:36 20 Aug 20
My daughter will start her internship, and I need to give her some extra cash. The car title loan approved by 5 Star Car Title Loans was very helpful.
Julian Sanders
07:27 19 Mar 20
I wasn't sure how to go about applying for a car equity loan. I asked around and found out that the easiest and fastest way to apply is online. That works great for me. I don't have to get my kids bundled up and buckled into their car seats to apply.
Gavin Howard
10:37 04 Feb 20
Dale Eberle
18:28 24 Aug 18
About This Location
Stereo Land provides GPS installation and removal services for 5 Star Car Title Loans customers. The store is located at 4505 Telephone Rd. Suite G, near the intersection with Transport St. If you live in Ventura and in need of installation or removal of GPS device, stop by Stereo Land that works with 5 Star Car Title Loans in Ventura. Stereo Land provides our clients with unmatched customer service. 5 Star Car Title Loans does not issue loans at this location.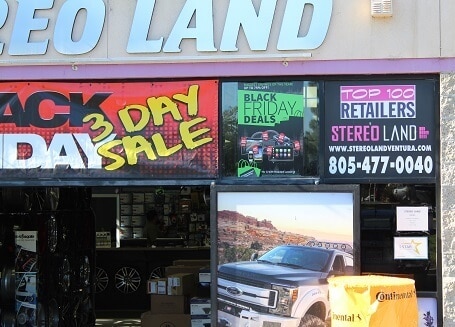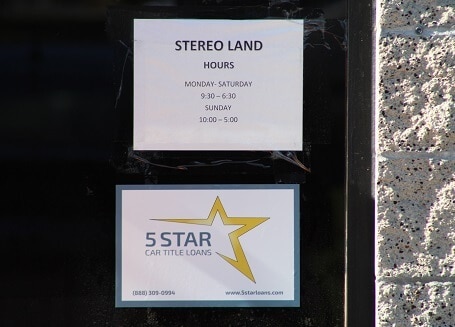 Historical Tidbits in Ventura, California
Few people know that in the early 1880s there was a thriving Chinese community in Ventura. The area called China Alley is where the highest concentration of Chinese activities took place. Today in the city's downtown business district there is a China Alley Historic area that is an official point of interest to visitors and residents alike. Another area of interest is the Ventura Pier. When it was constructed in 1872, costing a grand total of $45,000, it was California's longest wooden pier. To everyone's dismay, a ship came along in 1914 and barged into it, cutting it in half. After being rebuilt in 1917 (with steel reinforcement) it was used for 64 years. In 1995 it was a storm that finally destroyed the pier once again.
Not Enough Cash in Ventura?
Living in Ventura is pretty great, so long as there's enough cash to go around. But if you're suffering from a lack of cash, then life can be extremely stressful. Where will you get money to pay the bills? How will you pay your rent on time? We all understand these issues. If you could use a little help in the form of a loan, we would love to help. If you live in Ventura and own a private car, go to the bottom of this web page, locate the online application and send it in to 5 Star Car Title Loans in Ventura. You might be pleasantly surprised!
Keep Your Bills Paid on Time
Our car title loans begin at $2,600 but can go higher if your car is more valuable. We'll get an up to date evaluation of your vehicle, taking into account its age, odometer reading, type of car and condition. If the value is adequate to use as security for a fast cash loan, we'll also determine that you fit our credit standards and that you'll be able to make the monthly payments. Then we'll contact you to set up a meeting in our offices at 5 Star Car Title Loans in Ventura so we can get more information.
Don't Wait - Contact 5 Star Car Title Loans in Ventura!
If you need money and you own a car, don't wait to send in your application! You will still be able to keep your car if your request is approved, so why wait? Contact us now – 5 Star Car Title Loans in Ventura.