Can I Get a Title Loan Without a Job?
When applying for a standard loan, a person will need a valid job and employment, or at least a steady stream of revenue to show the lender that they are trustworthy and have a means of repaying the money.
With a title loan, things are a little different. If you're wondering if you can get a title loan without a job—the answer is yes—depending on the circumstances. You'll need to prove to the lender that you're trustworthy and that you can pay back the loan.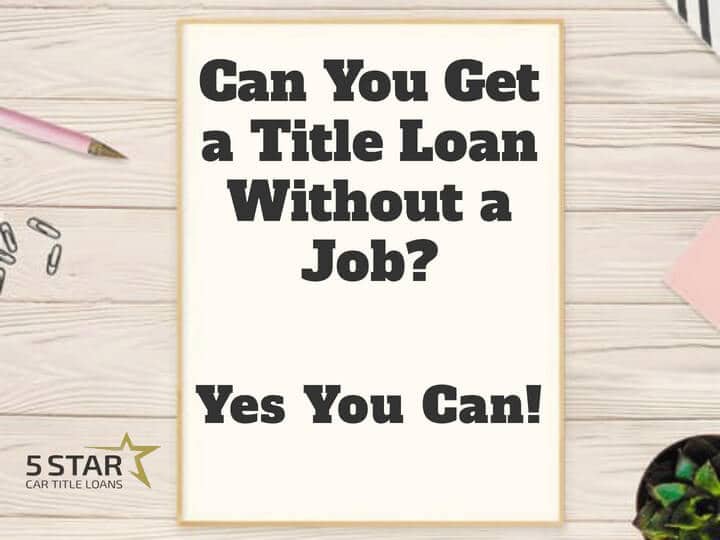 You have to prove that you shouldn't be turned away just because you don't have a job or measurable employment
To do that, you'll need to follow certain steps and garner the appropriate paperwork. Here are some of the items you'll require:
• Lien-proof vehicle
• Government-issued ID or driver's license
• Ability to repay
Let's examine some of these items in detail.
A. Lien-Proof Vehicle
A title loan cannot happen without a vehicle. In order to loan money the lender will need something in return, and in the case of a title loan, it will need to have access to your vehicle's title. Remember that you're not transferring ownership of the title over to the lender permanently – you're simply adding the lender as the lienholder while you remain the registered owner.
Bear in mind that you'll need full ownership of the vehicle's title. Two people can be on a loan if they are together on the title. The person who gets the loan must be the registered owner or have proof of ownership transfer to their name.
B. Government-Issued ID or Driver's License
The lender will want to make sure that you're a real person. To do this, it will need to validate your driver's license or identification to ensure all the information it presents is accurate. This includes your age, your home address and other relative data. With identify theft and fraud running rampant nowadays, no lender can be too careful.
Make sure your ID is updated with all the appropriate information. If your address has changed, be sure to make note of this with the DMV as soon as you can. Any false or inaccurate data could postpone or outright prevent you from getting your money.
C. Ability to Repay
If you don't have a job or steady employment, you can still get the money you need by showing some ability to repay your loan. Whether that's disability pay, alimony, fixed income money or some other source, having a cash flow like this is sure to grease the wheels with your lender.
However, if you have no income stream, that's not going to be enough to deter all lenders from saying "yes" to you. You're not likely to earn the approval of every lender you speak with, but there are options out there for individuals in your situation.
In cases like these, you'll have to agree to specific payment arrangements with the lender. The arrangements are customized to fit your circumstances, so you can get your money without having to worry too much.
While they will vary from lender to lender, these payment arrangements may include an expanded pay period with higher interest rates. In this case, you could wind up paying more money than the initial loan, so make sure these circumstances are acceptable and within your financial means.
In addition, remember that if you're ever unable to repay the loan or adhere to the lender's terms, they are legally able to repossess your vehicle.
Lender's will check your ability to repay the loan. This can be from your regular paycheck, an ongoing business or benefits
Additional Options Available
Sometimes, the lending party will offer you money if you can find a co-signer. If you lack income or appropriate means of repayment, the lender will want to ensure it can get its money back with minimal effort in the quickest amount of time.
In this case, they may require someone to put their name on the loan with you. While it's a rare circumstance, it can happen. Situations like these will require the name, credit and the financial situation of another person. It's important to note that if you ever can't repay the loan, the other person must assume the responsibility.
Are You Ready to Apply for a Title Loan?
If you're in a jam and you need cash fast, 5 Star Car Title Loan is here to help you. For years, we've been helping customers throughout California to apply and receive title loans.
Applicant approval is determined by examining several different factors, including your individual credit and employment history. We study your ability to repay the loan, as well as your car's overall value.
If you have poor credit or no credit score, don't let that deter you. You can still qualify for a loan with 5 Star Car Title Loans. No matter how bad your situation is or your employment status, our loan agents will do everything in their power to help you.
Give us a call! We deserve a chance to assist you, and you deserve a chance at life. We look forward to hearing from you!
References: