Online Title Loans in Highland, CA
We have a new and easy online loan process that helps you apply anytime from any place! You can now use your mobile phone to go online and send in your application for online car title loans in Highland, CA. Give us your name and info on the car you own and one of our loan specialists will get back to you.
5 Star Car Title Loans is now offering a more convenient way to get your money with online title loans in Highland, CA. We're waiting to get your application for quick cash loans online!
Car Title Loans Online Application Process
Pre-Qualify – Fill out our quick online form and instantly see if you pre-qualify

Additional Info – Use our mobile app to upload vehicle photos, driver's license and car title

Loan Offer & Terms – One of our loan specialists will contact you with your loan offer
Online Car Title Loans - How it Works:
A. Submit the following info to see how much cash can you get:
Your name
Phone number
Vehicle information
Address
Date of birth
Social Security Number
B. Once pre-approved, our user-friendly mobile app will allow you to upload:
Photos of your vehicle
Driver license
Car title
C. Get an online title loans offer and terms
Upon receipt of the above described items, one of our loan specialists will be contacting you with your loan offer and terms.
D. Complete the loan process and get your money
To complete the title loan process, all* you'd need to do is stop by any FedEx store and ship the title to us. Our loan agent will print out a FedEx label for your convenience.
Once the title was dropped, we will simply direct deposit the funds into your debit or prepaid card.
*In some case you will be required to stop by one of our GPS Centers so we can install (free of charge) a tracking device onto your vehicle.
Online Title Loans in 4 Easy Steps
Enter Your Car's Details: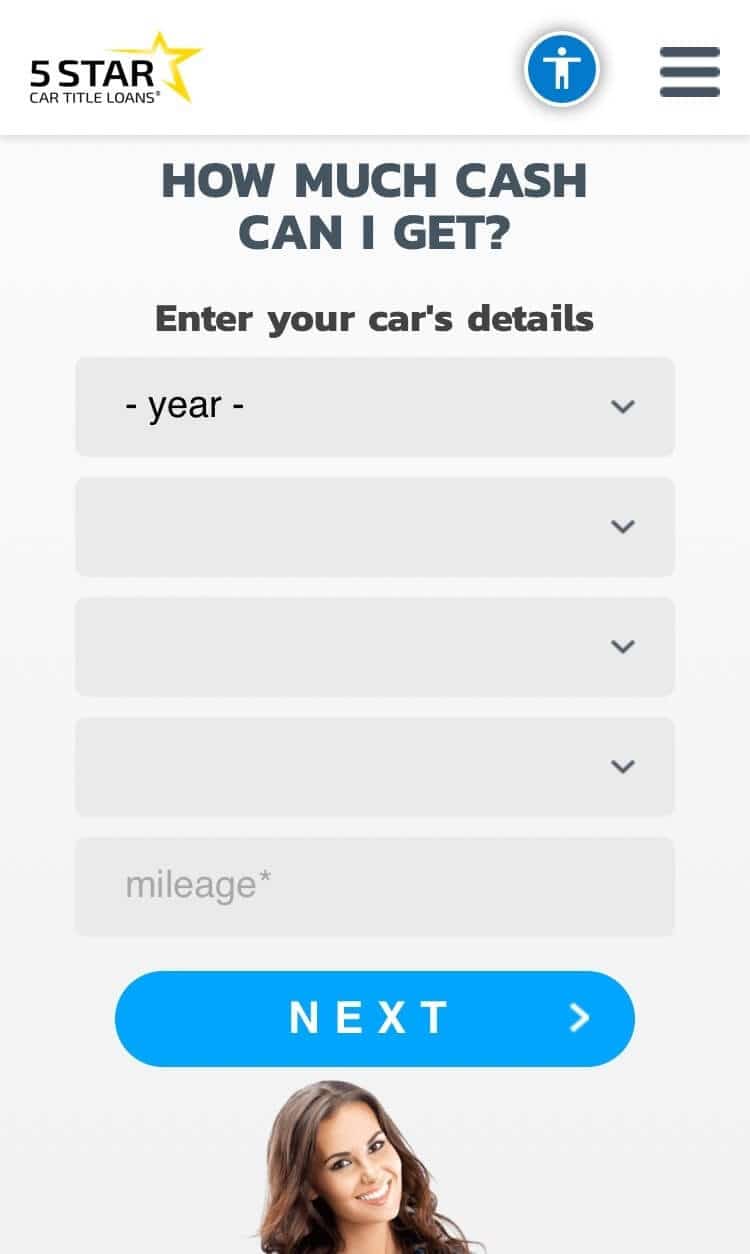 Your Personal Information: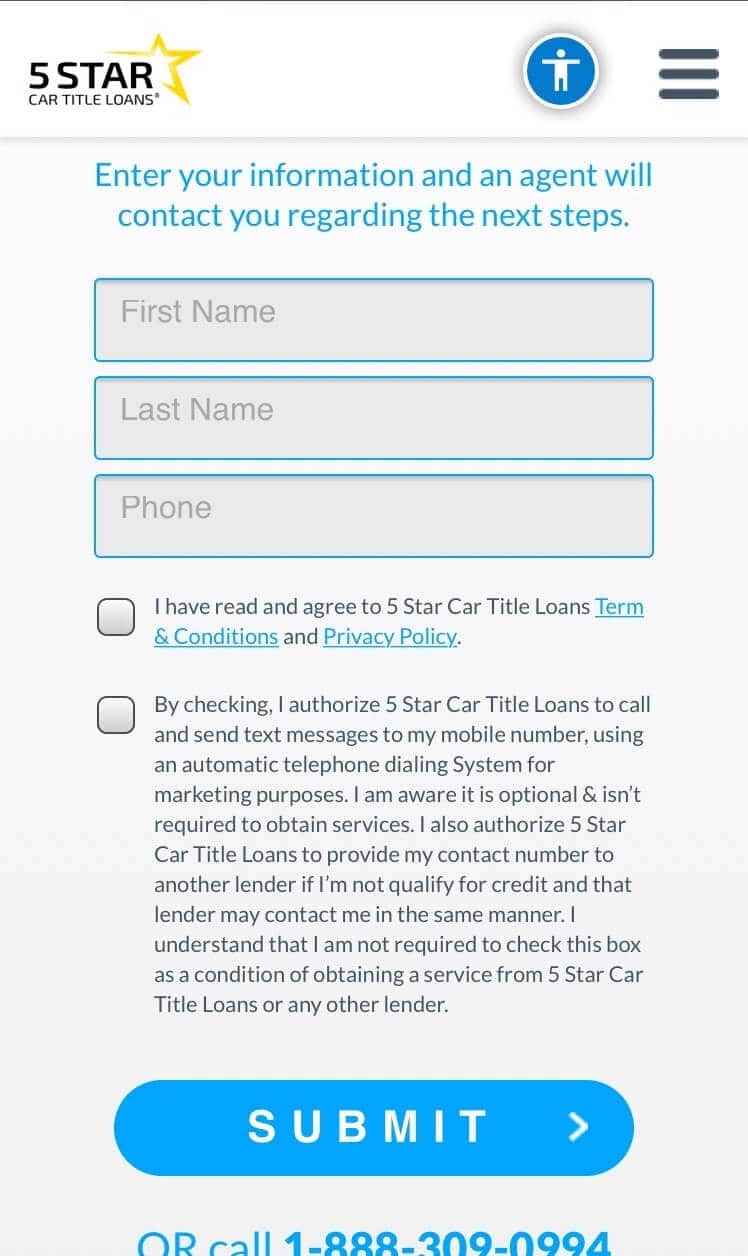 Address, Date of Birth and SSN: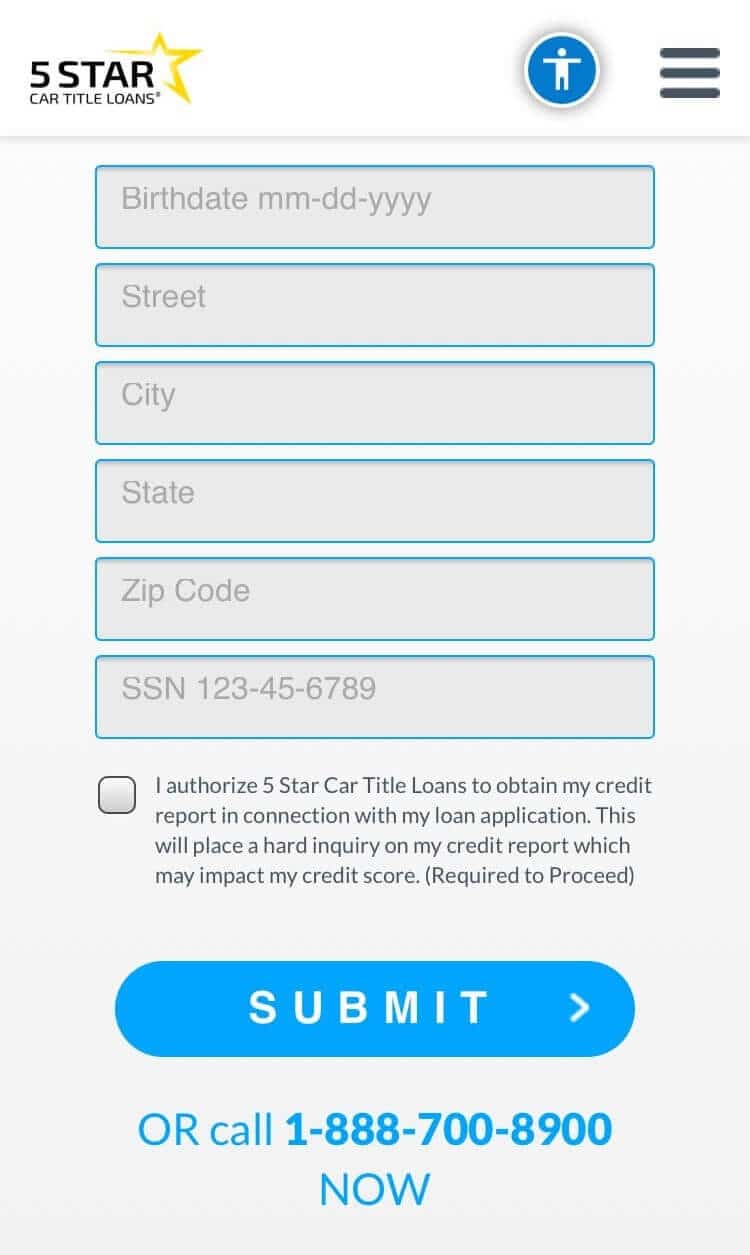 Upload Photos of Your Vehicle: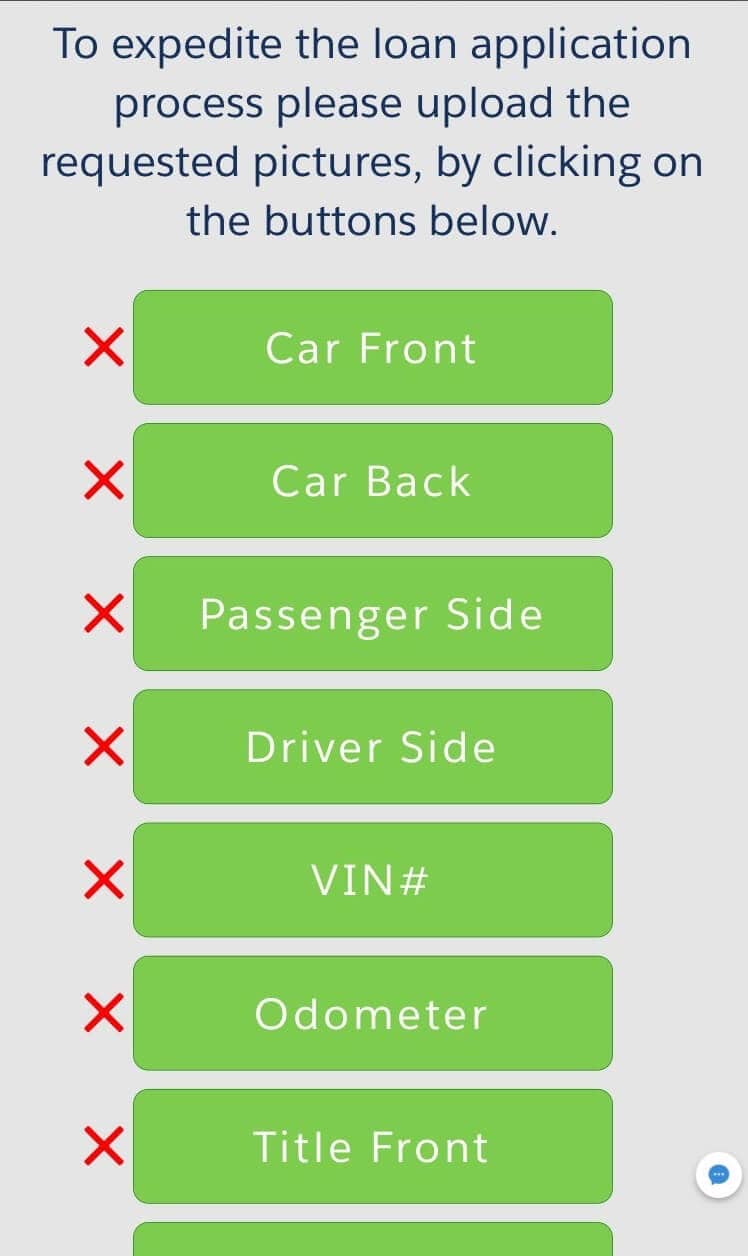 Getting an Online Title Loan in Highland, CA Streamlines the Process:
Compare rates and pre-qualify online
Apply using our website instead of visiting our branch
Get a fast approval decision
Get a free estimate – compare a variety of offers!
Get a direct deposit of funds* to your debit card or a prepaid card


*You can also walk into any MoneyGram location inside a Walmart Center close to you and pick up Cash at the MoneyGram kiosk
Products Details
Any Credit History Accepted

Title Loans Ranging From 25% to 120% of Car's Value

No Extra Fees or Penalties for Prepayment

Annual Percentage Rate (APR) From 60% Up to 175%

Keep Driving Your Vehicle!
Why Online Title Loans in Highland?
People choose online title loans in Highland for a variety of reasons, and each person has a different preference. But anyone who remembers the old style of applying for loans love this new way of getting fast cash online without all the hassle.
Here are a few of the benefits of applying for fast cash online:
A. Enjoy the convenience: Borrowers can actually complete every step of the loan process online. Beginning with pre-qualifying all the way through signing the final contract, there's no need to even go out of your house.
B. Faster and easier: When applying for quick cash loans online, it's not only easier but faster! Why wait for the office to open if you can send in your application online now? You will appreciate the quick response from our loan team.
C. Estimates – No obligation: You can find out if you pre-qualify when you send in your online application for cash title loans. You do not need to pay for this service. It is your choice whether to continue the application or not.
D. Different credit types accepted: Don't worry if you have a poor credit score. You can still apply for easy online loans for bad credit. We will use our own criteria to make a decision regarding approval of your car title loans for bad credit.
E. Help with debt: At 5 Star Car Title Loans, you can use vehicle title loans to consolidate all of your debt. Instead of many payments, you'll have only one single monthly payment.
How Much You Can Get with Car Title Loans in Highland
When you send us your application for car title loans in Highland, we will evaluate it to check its worth. Based on that, we want to give you a loan that is fair. It all depends on your ability to repay your loan and how much value your car has, but we give loan amounts that range from 25% to 120% of your car's value. Send in your application to see how much you can get.
Estimating Your Vehicle's Value for Auto Title Loans Online
The first thing we do when we receive your application for auto title loans online is to calculate the value of an auto that you own. There are several factors we take into consideration. When all the facts are in, we can make a pre-approval decision that is also based on your ability to repay your loan.
Here are a few of the factors that we check to use your car as collateral:
1. Equity – Equity is the most important factor, since it reflects how much value your car has that we can use as collateral. If there is a sufficient amount of value, then we can go on to other criteria.
2. Vehicle's condition inside and out – Since the general condition of your car affects its value, we need to check it. If there are no scrapes or dents in the body and the inside is pristeen, you can get more than if the car is in bad shape.
3. Previous accident report – Your car's value can be affected by any previous wrecks.
4. Mileage – We will check the number of miles driven in relationship to the age of the car.
Interest Rates and Fees on the Best Car Title Loans
The amount of the interest affects the final monthly payment amount. Borrowers always take into account what the rate will be when looking for the best car title loans. We use an APR that can be as low as 60%. In come cases, it can go as high as 175%. The rates for qualifying customers can vary depending on meeting our credit criteria. There's no need to worry, however, because you can see the exact interest rate on the contract before signing.
In addition to the interest rate, always check that there are no prepayment penalties for early payment. At 5 Star Car Title Loans, we do not add on hidden fees or other charges after you sign.
How Do Instant Cash Loans Online Work?
If you are in need of instant cash loans online, then you need to know the basic requirements. Here are the basic steps you need to take and what is needed for each step. Don't forget that we are here to help you.
1. Fill in application for a title loan.
2. Your car will be inspected for pre-approval of your loan.
3. You will receive an offer based on your car's value and your ability to pay.
4. The lender's name is put on your title as a lien holder.
5. Collect your cash but keep your car.
6. Return all the money in monthly payments.
7. Receive your title without a lien.
To make it easier to understand, read our complete guide "How Do Car Title Loans Work" and find all the information in one place.
Frequently Asked Questions
1. How much can I borrow?
Our car title loans in Highland begin at $2,600. The price can be higher, but it is according to your ability to pay, the value of your car and our credit criteria.
2. Is it possible to get online car title loans after a bankruptcy?
It is possible to be approved after a bankruptcy. If the bankruptcy has been discharged, it will be easier. If you have a current bankruptcy, you will probably need to get the court's permission to get a loan. Your approval also depends on your ability to pay, the value of your car and if you are getting credit counseling.
3. How long does it take to get money from an instant cash loan?
After your request for an instant cash loan has been approved, it typically takes somewhere around 3 – 5 hours to get your money*. Apply now for a quick answer.
*Funding time is dependent upon the availability of 5 Star Car Title Loans offices and time necessary to complete your loan process.

4. When can I get my title back?
After you finish paying back the title loan according to the contract, you will automatically get your title back. You normally do not need to do anything. When you receive it, the lien will be off and it will be free and clear.