Online Title Loans in Placentia, CA
Wow! You can apply for online car title loans in Placentia, CA without even going outside! We have a new online service that lets you send in your application online from anywhere and at any hour. You don't have to wait for anyone or anything. If you're at home and need an instant loan, apply now!
5 Star Car Title Loans is now offering a more convenient way to get your money with online title loans in Placentia, CA. Anytime. Anywhere. Apply for easy loans online now!
Car Title Loans Online Application Process
Pre-Qualify – Fill out our quick online form and instantly see if you pre-qualify

Additional Info – Use our mobile app to upload vehicle photos, driver's license and car title

Loan Offer & Terms – One of our loan specialists will contact you with your loan offer
Online Car Title Loans - How it Works:
A. Submit the following info to see how much cash can you get:
Your name
Phone number
Vehicle information
Address
Date of birth
Social Security Number
B. Once pre-approved, our user-friendly mobile app will allow you to upload:
Photos of your vehicle
Driver license
Car title
C. Get an online title loans offer and terms
Upon receipt of the above described items, one of our loan specialists will be contacting you with your loan offer and terms.
D. Complete the loan process and get your money
To complete the title loan process, all* you'd need to do is stop by any FedEx store and ship the title to us. Our loan agent will print out a FedEx label for your convenience.
Once the title was dropped, we will simply direct deposit the funds into your debit or prepaid card.
*In some case you will be required to stop by one of our GPS Centers so we can install (free of charge) a tracking device onto your vehicle.
Online Title Loans in 4 Easy Steps
Enter Your Car's Details: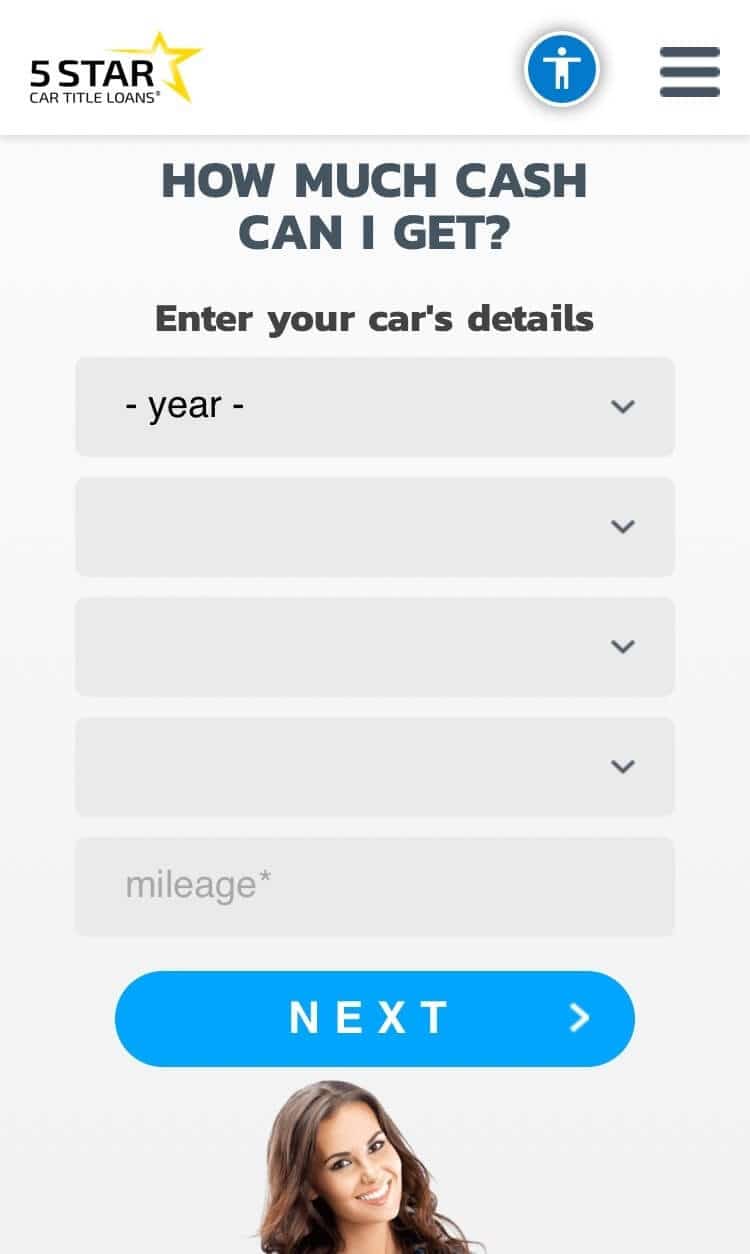 Your Personal Information: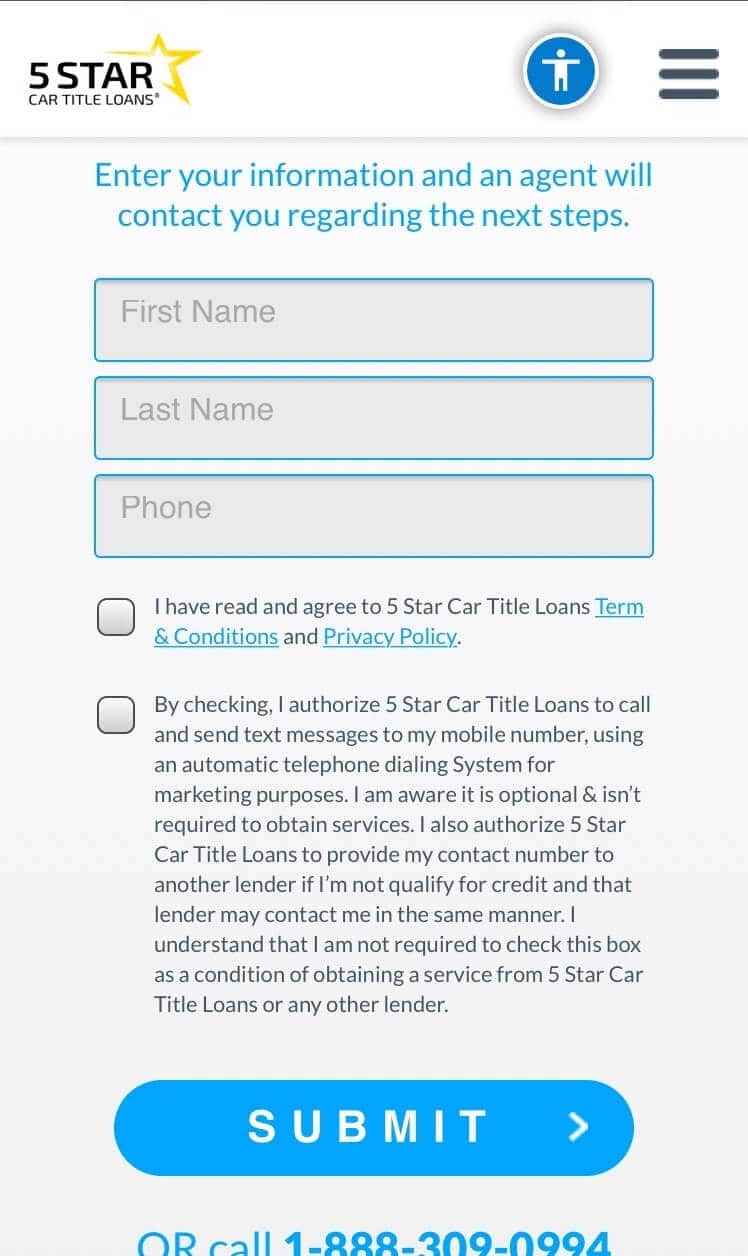 Address, Date of Birth and SSN: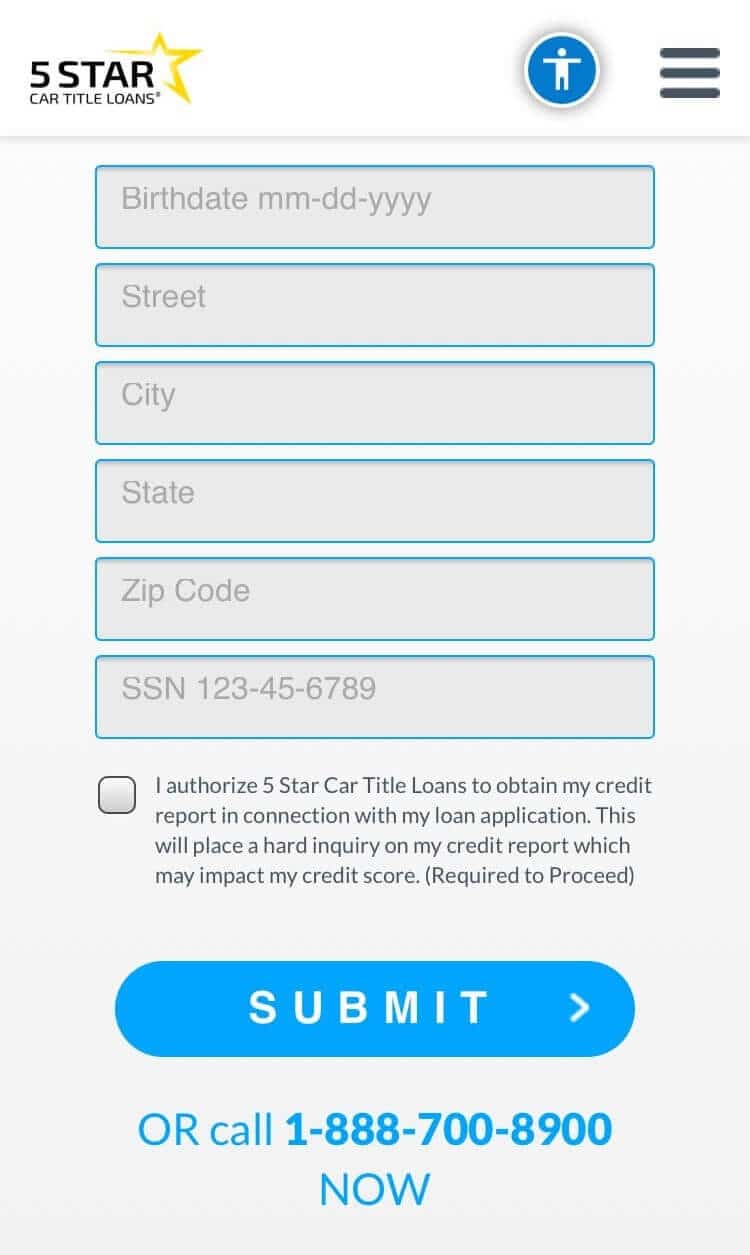 Upload Photos of Your Vehicle: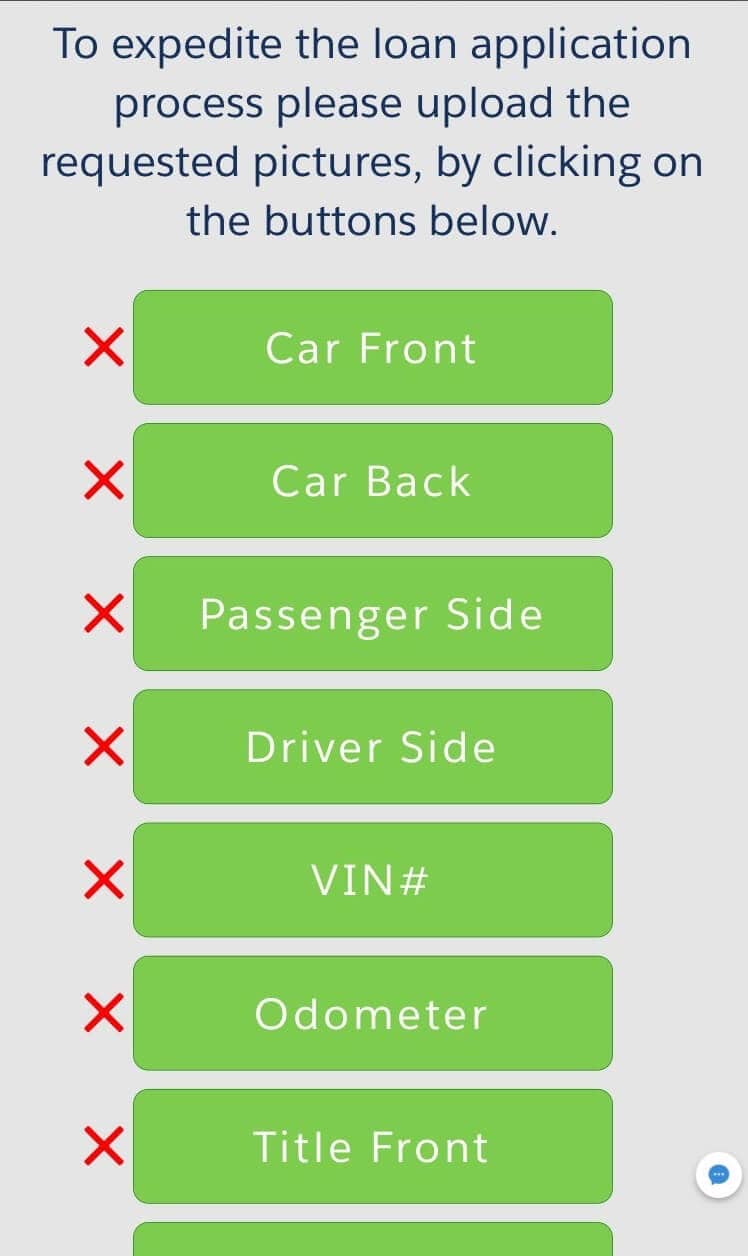 Getting an Online Title Loan in Placentia, CA Streamlines the Process:
Compare rates and pre-qualify online
Apply using our website instead of visiting our branch
Get a fast approval decision
Get a free estimate – compare a variety of offers!
Get a direct deposit of funds* to your debit card or a prepaid card


*You can also walk into any MoneyGram location inside a Walmart Center close to you and pick up Cash at the MoneyGram kiosk
Products Details
Any Credit History Accepted

Title Loans Ranging From 25% to 120% of Car's Value

No Extra Fees or Penalties for Prepayment

Annual Percentage Rate (APR) From 60% Up to 175%

Keep Driving Your Vehicle!
Different Type of Online Title Loans in Placentia, CA
Many people think of online title loans in Placentia, CA as being for people who own cars and need a fast loan. But the truth is, 5 Star Car Title Loans offers many types of fast title loans. Here are a few of them, but if you have a different need or an online loan, contact our office today.
Car title loans
Motorcycle title loans
Pawn title loans
Unsecured loans
Boat title loans
ATV title loans
Many types of personal loans
5 Star Car Title Loans Services
On top of providing quick cash loans for car owners, we offer a variety of services that make it worthwhile to send in your application. Here are a few services that you won't want to miss out on:
Don't give up your car! Keep it and drive it
We keep your personal details secure and strictly confidential
Our online application is simple and fast
Take your choice of several repayment options
Fast cash with MoneyGram, Repay or Company Check
Customer service – 6 days a week
Find the closest location to you
Besides those benefits and services, we can also help you with transferring the car title into your name or helping you register your title if it is from out of state.
3 Simple Ways for Payment of Your Instant Online Title Loan in Placentia, California
Since everyone has different abilities and needs, we prepared three methods of making monthly payments towards your instant online title loan in Placentia.
1. Online payments – this is the most popular method, because you can take care of it any time that it is convenient for you. However, you must have an account to be able to pay online. If you don't, get ahold of one of our loan agents for help setting up your account.
2. Cash Payments – Monthly payments can be made in cash by going to a 7 Eleven store. Give them the cash and they will accept your instant online title loan payment.
3. Payment by phone – If you prefer to use your credit or debit card to pay, call our office and a loan agent will walk you through the steps.
Getting Easy Online Loans for Bad Credit
Many people aren't sure if they can qualify for easy online loans if they have bad credit. At 5 Star Car Title Loans, you can get same day cash even if you have bad credit. We have our own criteria we use when evaluating an application for approval. We want to check:
Is your car of adequate value?
Can you repay the loan?
Do you meet our basic credit criteria?
If you can answer yes to those questions, there is a good chance you can be approved for easy online loans for bad credit.
What Are the Instant Cash Loan Requirements?
If you need money and you own a car, you can apply for an instant cash loan. For auto title loans pre- approval, there are specific requirements. Here are the main items you'll need:
A vehicle with good value
ID issued by the government
Photos of your vehicle
Valid title with your name
Proof of how you'll pay back the loan
In addition, more documents, such as proof of residency, may be necessary.
How Much Money Can I Get with Auto Title Loans in Placentia?
While the exact amount of auto title loans in Placentia can vary, the beginning amount is $2,600. At 5 Star Car Title Loans, we take several factors into account when setting loan values.
Title loan amounts are affected by:
The specific lender
Your ability to pay back the loan
State laws that apply to title loans
Your vehicle's condition – inside and out
Your vehicle's value
When you receive an offer with the amount, consider how much you actually need. If you don't need all of the money, it is more responsible to take less. We recommend only borrowing as much as you need. Take note that 5 Star Car Title loans are pursuant to CA financing law license No 603F508.
How to Apply for Car Title Loans Completely Online
You'll be surprised at how quick and easy it is to apply for car title loans completely online. The way to begin is to send in your application online. There are a few questions you'll need to answer, but they are simple. You'll need to write in your name and contact information and a short description of a vehicle that you own. We will do the rest. After evaluating your application, we will contact you ask quickly as possible.
Frequently Asked Questions
1. How much time does it take to get bad credit title loans?
The approval process goes quickly, so be sure to include all the necessary information on your application. After we get your request, the process goes as follows:
A. Your application will be reviewed and your auto will be evaluated. Based on its value and proof that you can repay, you can be approved.
B. Your application will go to the loan underwriting team and your information will be verified.
C. Installation of a GPS tracking instrument will be installed at one of our locations or at a GPS installation center.
None of these steps take very long. If all the information is available, your loan can be funded in a matter of hours.
2. How long does it take to get the money?
It can depend on the local 5 Star Car Title Loans office, but the usual funding time can be between 3 to 5 hours*.
*Funding time is dependent upon the availability of 5 Star Loans offices and time necessary to complete your title loan process.
3. How can I get my title back?
You don't need to do anything to get your title back after paying for your instant cash advance online. Once the payments are finished, the lender's name will be taken off your title and it will be returned to you.
4. Will there be extra fees or penalties added on to my payment amount?
Absolutely not! What is written on the contract when you sign it is what you will pay. We do not add on extra fees or penalties. Even if you want to pay off your loan early, there are no prepayment fees involved.