Online Title Loans in West Sacramento, CA
We are pleased to announce our new and easy services for online title loans in West Sacramento, CA! Simply by sending us an online application for an instant cash loan, you can get approved without even leaving home!
5 Star Car Title Loans is now offering a more convenient way to get your money with online title loans in West Sacramento, CA. Try out our new online title loans services by sending us your application today!
Car Title Loans Online Application Process
Pre-Qualify – Fill out our quick online form and instantly see if you pre-qualify

Additional Info – Use our mobile app to upload vehicle photos, driver's license and car title

Loan Offer & Terms – One of our loan specialists will contact you with your loan offer
Online Car Title Loans - How it Works:
A. Submit the following info to see how much cash can you get:
Your name
Phone number
Vehicle information
Address
Date of birth
Social Security Number
B. Once pre-approved, our user-friendly mobile app will allow you to upload:
Photos of your vehicle
Driver license
Car title
C. Get an online title loans offer and terms
Upon receipt of the above described items, one of our loan specialists will be contacting you with your loan offer and terms.
D. Complete the loan process and get your money
To complete the title loan process, all* you'd need to do is stop by any FedEx store and ship the title to us. Our loan agent will print out a FedEx label for your convenience.
Once the title was dropped, we will simply direct deposit the funds into your debit or prepaid card.
*In some case you will be required to stop by one of our GPS Centers so we can install (free of charge) a tracking device onto your vehicle.
Online Title Loans in 4 Easy Steps
Enter Your Car's Details: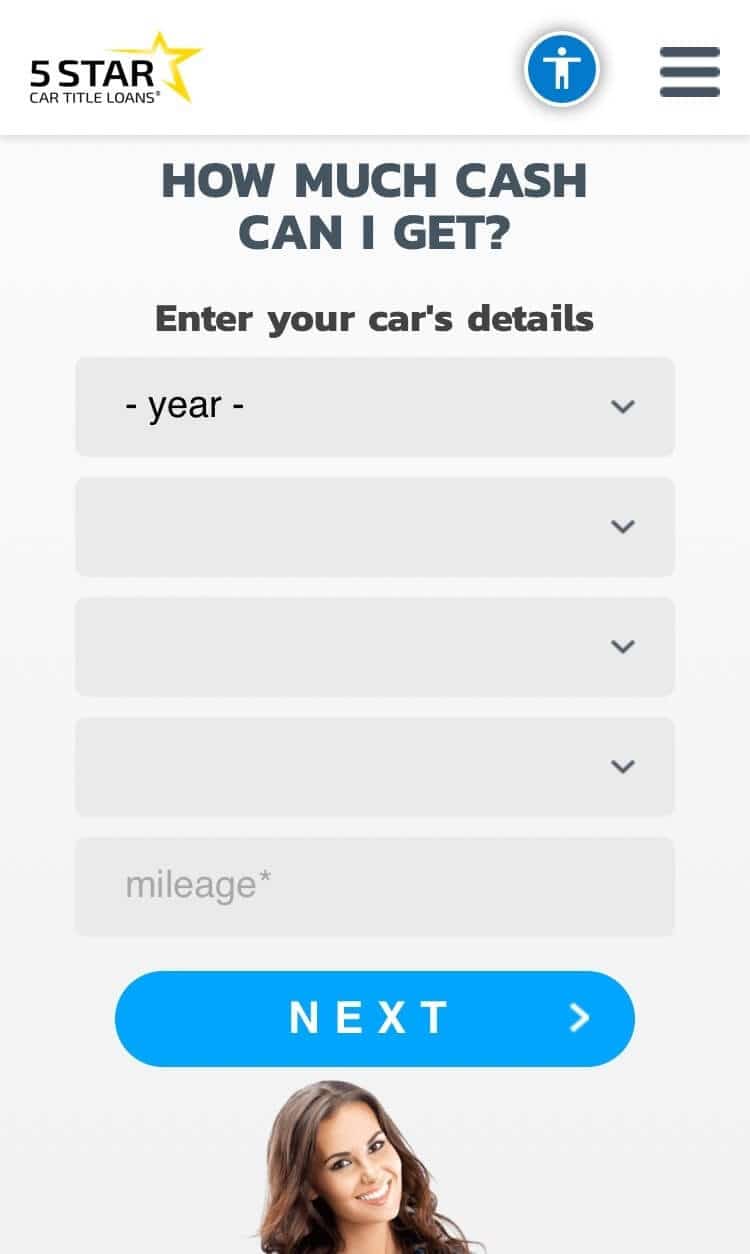 Your Personal Information: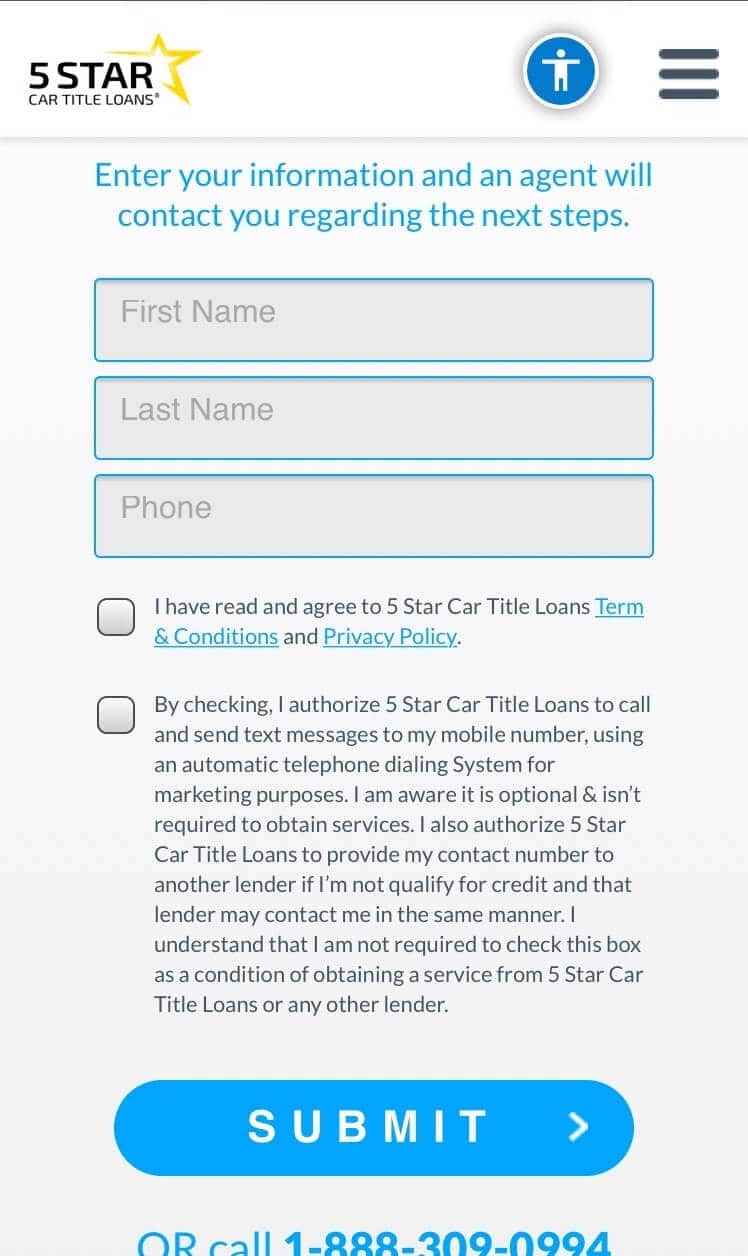 Address, Date of Birth and SSN: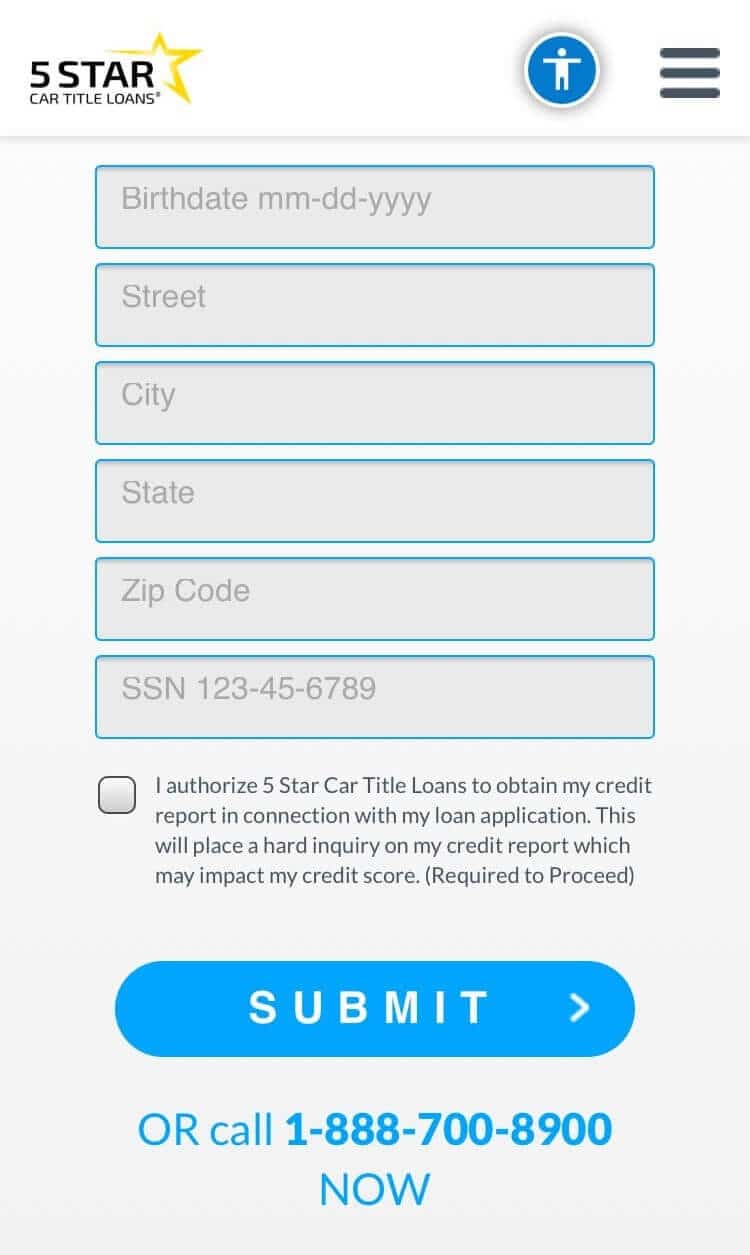 Upload Photos of Your Vehicle: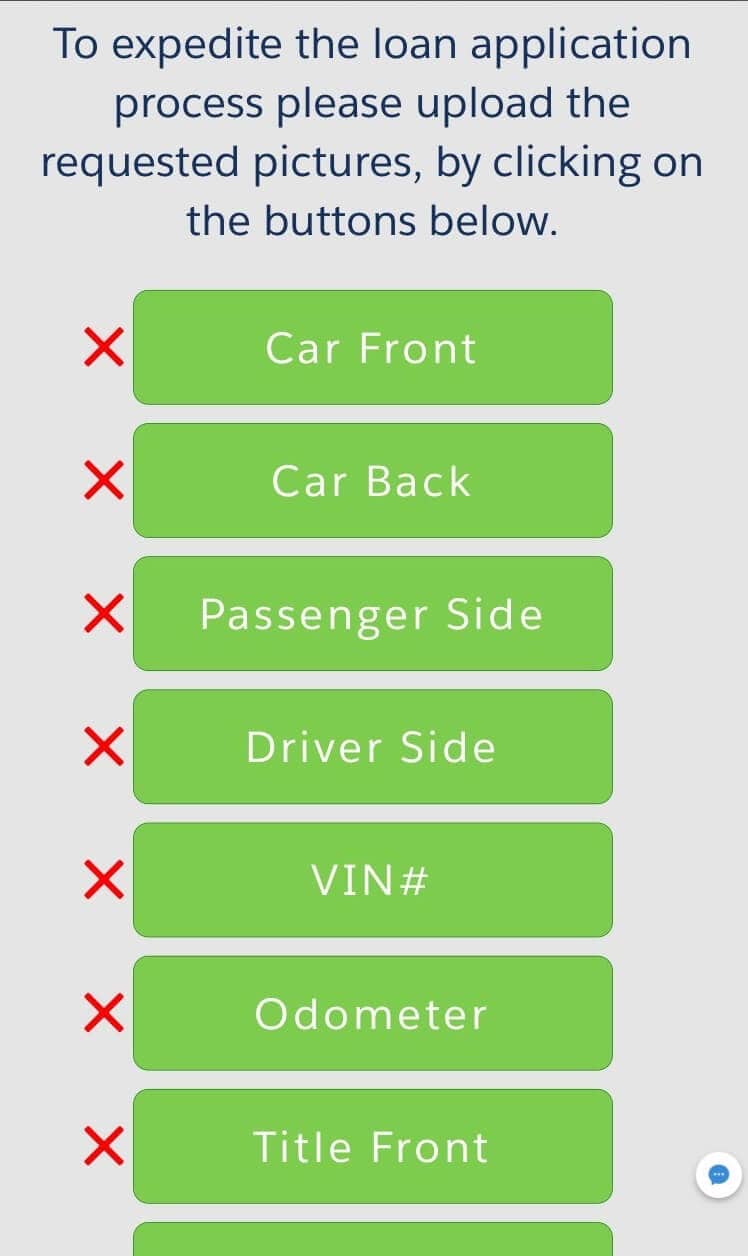 Getting an Online Title Loan in West Sacramento, CA Streamlines the Process:
Compare rates and pre-qualify online
Apply using our website instead of visiting our branch
Get a fast approval decision
Get a free estimate – compare a variety of offers!
Get a direct deposit of funds* to your debit card or a prepaid card


*You can also walk into any MoneyGram location inside a Walmart Center close to you and pick up Cash at the MoneyGram kiosk
Products Details
Any Credit History Accepted

Title Loans Ranging From 25% to 120% of Car's Value

No Extra Fees or Penalties for Prepayment

Annual Percentage Rate (APR) From 60% Up to 175%

Keep Driving Your Vehicle!
Now You Can Get Title Loans from 25% to 125% of Your Car's Value
Online car title loans in West Sacramento are based on your ability to repay your loan and car's value. But not everyone knows exactly what their car is worth or how the value is calculated for use as collateral. We try to give you top dollar according to our own estimations, which also takes into consideration how much you can afford to pay back and the value of your car.
Calculating Your Car's Value for Title Loans in West Sacramento, CA
Kelly Blue Book is the standard for getting a current price on most vehicles. We can start from that price, but then there are other considerations that will affect a car's value. We check several factors when using the value as security for title loans in West Sacramento.
Here are some of the factors we go by when evaluating your auto for use as security for fast cash online:
A. Amount of equity – Whether you still owe payments on your car or not, your car needs to have good equity. The equity we can use is the percentage that belongs to you. If the equity in your car is high enough, we can use it as security for your instant online title loan.
B. Miles on the odometer – The number of miles your car has been driven affect both the wear and tear on the car as well as its street value. We will check the odometer reading and see if it is reasonable for the year and model of your car.
C.Vehicle's body – How your car looks on the outside is important to its price. Does it have dents, scratches and scrapes? Are the windows and mirrors in good shape?
D. Vehicle's interior – How well have you taken care of your car's interior? We will look to see the condition of the upholstery and if anything is broken or grungy.
E. Previous accident report – Whether a car has been in accidents can affect its value. It depends on the type of accident, the extent of the damage and the quality of the repair work.
After doing our own evaluation, we will prepare an offer using a fair value for your car.
Check Out Our Competitive Rates for Car Title Loans Completely Online
It's typical to be interested in the amount of interest you will pay on car title loans completely online. The interest rate affects the monthly payment, so it's something you should compare between loan companies. At 5 Star Car Title Loans, we strive to offer rates that can be managed by the borrower. We want to remove any fears regarding rates or hidden fees.
There are no hidden fees or prepayment penalties on our vehicle title loans.
For our qualifying customers, we offer an APR of 60% up to 175%. We take the car's value into account as well as our own credit criteria (including your ability to repay your loan).
4 Ways of Paying Back Your Instant Cash Loan
Of course when you are considering signing a contract for an instant cash loan, you'll think about how you will make the monthly payments. We offer 4 different options, so you can select the type that is the most convenient for you.
A. Cash payments – 7 Eleven stores are set up to accept your cash payments. Just walk into any 7 Eleven and pay at the counter.
B. Personal check or cashier's check – If you prefer, you can stick your check in an envelope and mail it to us each month.
C. Pay online – If you have an online account set up, it's easy to make the transfer each month. If you need help setting up your online account, our customer service agents will help you.
D. Pay by phone – To make your payment over the phone, call one of our customer service representatives. Give them your credit or debit card info and they'll help you process your payment.
How Do Car Title Loans Work?
Car title loans work by using a vehicle that you own as collateral for an instant cash advance online. You can apply and manage your title loan completely online, so it is safe, easy and convenient.
Here are the simple steps to getting the best title loans:
Call our office or send in an online application.
Your car's value will be assessed along with your ability to pay.
If pre-approved, your car will be inspected.
After approval, the lender's name will be put on your car's title as a lien holder.
Keep your car but get the quick cash.
Pay back your loan in monthly installments.
Your title is returned to you, minus the lien.
Send in your application or call us for more information.
Frequently Asked Questions
A. What exactly is a title loan?
When you use the value of your car to get quick cash, you give up your title but you keep your car. That's what a car title loan is. While you are repaying the loan, the lender's name will be a lien holder on your title.
B. What do I need to get a car title loan?
So, you generally need:
#A car with a free and clear title
#Pictures of your car
#Adequate income to pay the monthly payments
#ID issued by the government
#Your address and email
*These are the requirements for our fast title loans. If more documents are needed, such as proof of residency or insurance, the loan agent will notify you.
C. What is the amount of money I can get with title loans in West Sacramento?
The amount of cash you get is subject to several factors, including the lender you are using. In general, these are the items we will check:
Your ability to pay the loan
The condition of your car
How much your car is worth
State laws regarding title loans
Once we send you an offer, it is our suggestion that you only get a loan for as much as you need. Loan amounts begin at $2,600 and go higher depending on the above credit criteria.