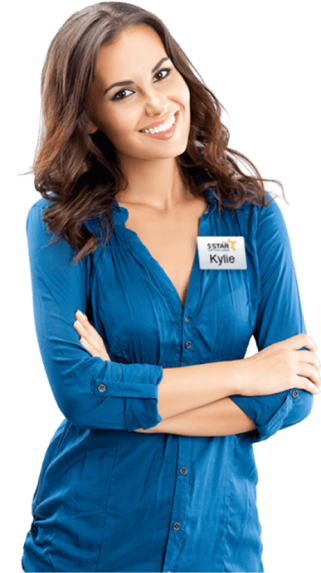 Customer Centered Service

Providing excellent customer service and a positive loan experience is 5 Star Title Loans top goal and we work tirelessly to make this happen for each and every customer.

Loans for Low Credit Score

We don't like turning away customers simply for having a bad credit score. We will work hard to get you a loan regardless of your bad credit.

Easy Application Process

We understand the urgency when getting a loan, so we offer simple options for applying. You can choose to apply either by phone or online.
Products

Car Title Loans

Payday Loans

Bad Credit Loans

Personal Loans

Online Title Loans

RV Title Loans

Process

Apply by phone or online

Complete all necessary requirements

Visit our local if needed

Get your money

Requirements

Car details

Personal details

Car title

Identification

References

Benefits

Keep driving your car

No prepayment penalties

No hidden fees

Quick funding

Personable service
5 Star Car Title Loans in Portage, Indiana
For most Americans, whenever something uncertain and bad happens, the first thing that gets out of balance is their budget.
Often problems come with certain costs and regular working individuals fall into debt trying to tackle their sudden emergencies. During those time period, many of us look for a way to get some emergency cash to pay for the bills and other expenses and get by the month.
Although a payday loan might seem like a suitable option, the higher annual percentage rate and lump sum payments are a real pain to manage.
Fortunately, Portage residents can choose another short-term loan option where they can use their vehicle title to get some fast cash and can easily pay back in smaller installments.
Let's understand how these collateral-based loans work and how you can get one in Portage, IN.
Auto Title Loans In Portage, Indiana
Auto title loans are easy and simple personal loans where the applicants can submit their car title as the collateral and get a lien placed on it to get themselves some extra cash.1
Title loans are preferred all over the US because of their fast and quick application process where people can apply and get approved in as little as 24 hours.2
Famous with other names such as pink slip loans, title pawns, and vehicle equity loans, these secured loans allow the borrower to keep his car while paying their monthly installments.
Why Choose An Auto Title Loan In Portage, IN?
Unlike traditional bank loans, online title loans in Portage, IN have flexible terms, easy applications, and easygoing credit qualifications where people who don't have an impeccable credit history can also apply and fund themselves.1
Here are some reasons why many prefer to get a car title loan in Portage, IN:
Fast and Easy Cash
Unlike service student loans, online title loans have a streamlined and smooth approval process where people can apply while sitting on their couch and receive the money in their bank account within 24 hours of final approval.2
Financing For Poor Credit History1
Even though your credit score is the final deciding factor in most loans, it's not the same with auto title loans. Here, the eligibility is based on multiple factors and even people who have faced credit difficulties or have a bad credit score can get funded.
Smooth Loan Process
At 5 Star Car Title Loans, customers don't have to wait for days, fill in lengthy forms or submit bundles of documents to get extra money. You can go to our website and fill out a simple form to know your eligibility within minutes2 or even call our loan representative to get assistance.
You Can Keep Your Car
In terms of collateral submissions, auto title loans are very different than other loans. Here the only thing that is submitted is your car's title. You can take the loan and pay it back in small installments while continuing to drive your car wherever you want.4
How Does An Online Title Loan work?
Intended primarily to help individuals with their personal needs.1 Online title loans at 5 Star Car Title Loans have a fast and effortless application process, where people can apply online and fund themselves in the following steps.
Easy steps for getting title loans in Portage, Indiana:
Fill out the Online Application 
Check your loan eligibility by visiting the 5 Star website to fill out a simple form or you can also call (888) 309 0994 where our loan agent will help you and let you know whether you are eligible for a title loan or not.
You would need to provide details about yourself and your vehicle such as the make, model, and odometer reading of the vehicle, your name, phone number, etc.
Upload Documents
Once you get the conditional approval, you can move to the next step and send in all the required documents requested by your title loan company.
At 5 Star Car Title Loans, customers won't have to visit anywhere and can send their documents directly from their homes by mailing them to the 5-star team.
Get the Documents Approved 
Our team will verify all the credentials and information with documents and will contact you to discuss and give an estimate of loan terms such as minimum loan amounts, interest rates, and more.1
Sign the Contract and Get the Money
Once you understand and agree with all the terms, you'll be required to sign a loan contract. Make sure you read it carefully and contact our team in case of doubts.
After we receive the signed contract, you can expect to get your title loan money within 24 hours or one business day.2
How Do You Get Approved for a Car Title Loan?
Auto title loans are short-term personal loans with easy credit qualifications than most lending options.1 But if you don't be in the dark and want to get your loan proceeds as quickly as possible, make sure you satisfy these conditions:
Conditions To Qualify for an Auto Equity Loan in Portage, Indiana
Applying candidates must be 18 years of age or older.

They should have a valid government-issued photo ID.

They should present a qualifying vehicle with a lien-free title to their name.

They should have a regular source of income with valid proof of the same.
Satisfying these conditions will make you eligible for a title pawn and having proper documents can help you get your title loan faster.2
Documents Needed To Apply For Portage Title Loans
Unlike other loan institutions, 5 Star Car Title Loans has a flexible and painless loan process where you can avail yourself of some instant cash with a handful of documents.1
These documents include:
Qualifying Vehicle Title:

A clean and lien-free title registered in your name.

Proof of Income:

Payslips, Bank statements, compensation letters, or alternate forms of income can work as proof of income.

Portage or Government Issued Photo Id:

A valid driver's license or passport can be presented while applying for a title loan in Portage, Indiana.

Proof of Residence in Portage, IN:

Generally, utility bills such as electricity gas or credit card, or rental/mortgage agreements are accepted as proof of address.

Recent Pictures of Your Car:

While clicking multiple angle photographs, make sure you also include the VIN and odometer reading of your car for a virtual inspection.

Several References:

Some lenders can also need you to submit a couple of professional or personal references.
Where I Can Use The Auto Title Loan Proceeds?
Even though other financial institutions (such as capital community bank), have a say in where their sanctioned loan can be used, title loans don't have any such restrictions. These loans are intended primarily to be used for virtually all of your personal and household needs1 such as:
Medical expenses

Travelling bills

Home Renovations

Funerals

Wedding expenses

Birthday parties

Monthly bills
Title Loans Fees and Interest Rates
As title loans are primarily collateral-based, multiple factors have an impact on the actual loan amount you get and the interest rates you have to pay.1
Many lenders use your income proof and market value of the acceptable property (your car) to determine the amount and other factors. Here are some of the things they check:
Current condition of your car

Amount you are borrowing

Market value of the Vehicle

Amount of Equity in the car

Repayment Period
You can call our team or use our free car title loan calculator to know an estimate of how much money you'll have to pay in your regular installments.
How Can I Pick My Loan Money In Portage, Indiana?
At 5 Star Car Title Loans, customers can get around 75% of their car's market value1 in loan money within 24 hours2 and e