5 Star Car Title Loans Google Reviews:
I highly recommend this loan agency for its smooth services. Thanks for being so helpful with our poor credit loans!
Lauren Darren
04:18 16 Jul 21
Extremely friendly staff! They did all they could do to get me what I needed to be able to the instant loans. I appreciate such fast work for this company. Highly recommend them.
Mckayla Irwin
03:54 15 Jul 21
Very professional treatment. Our payday loans process was flawless and very quick. The staff was fantastic and so helpful. Would highly recommend if you need some money quick for an unexpected incident. Grateful and pleased.
Mclean Patel
03:58 14 Jul 21
They provided me with Instant loan approval, so I was able to pay my bills quickly. In just a few days after applying for my loan, I received the funds. It was a pleasure working with you!
Kinsley Kameron
09:23 13 Jul 21
Auto title loans with no credit checks are available from them! The staff is a pleasure to work with.
Maureen Peralta
09:44 12 Jul 21
Ivan was very helpful with my loan. He was very helpful to me when i did not understand something. I will recommend him if ever asked about a car loan company. Thank you Ivan, Carol Davis
Carol Davis
03:30 21 Sep 18
About This Location
Direct Line Insurance Services provides registration services for 5 Star Car Title Loans customers. The store is located at 582 W Foothill Blvd, near the intersection with N Lilac Ave. If you live in Rialto and in need of registration services, stop by Direct Line Insurance Services that works with 5 Star Car Title Loans in Rialto. Direct Line Insurance Services provides our clients with unmatched customer service. 5 Star Car Title Loans does not issue loans at this location.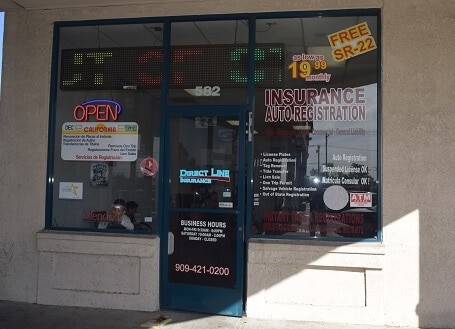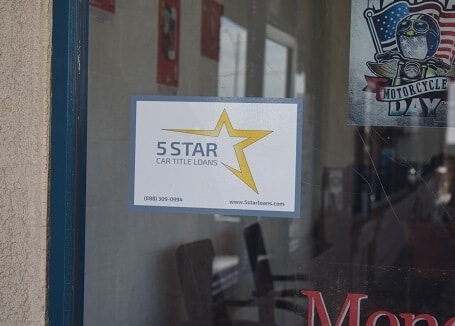 Rialto, California - Bridge to Progress
Some movie goers might recognize Rialto's local Interstate 201 between Linden Ave. and Alder Ave. and even feel like they've been there before. It's not a dream – they have probably seen that stretch of highway in a movie or two. Besides being filmed in a few UPS commercials and some ads for car companies, that location was also seen in the Transformers movie, road scenes in Due Date and The Hangover and Drive, which was a Fox TV show in 2007. A television stunt was performed and filmed on Rialto's Highway 210 (before its completion) for Fear Factor. Besides its role in movies, many notable people in sports and entertainment are from Rialto.
Roles in Films
If you landed a role in one of the movies or commercials being shot in Rialto, you may have plenty of money in the bank. Or maybe not. If you haven't received payment yet for your TV debut or you're still hoping to reach stardom, you might get hungry in the meantime. If you are lacking in money while waiting for your next pay slip to show up, a good solution might be 5 Star Car Title Loans in Rialto. We give fast cash loans to car owners in Rialto in exchange for using their car's value as security. To use the value without taking the car, we can put our name on your car title.
New Car Title
When you have paid for your loan, the DMV simply issues you a clean car title without our name. But while paying the loan off, you have complete use of the car. To qualify, your car must be valuable, you need to meet our credit criteria and show us that you will be able to make the payments according to the contract. At 5 Star Car Title Loans in Rialto, we have cash to loan folks in Rialto.
Online Car Title Loan Applications
Send in your car title loan request to 5 Star Car Title Loans in Rialto. We'll determine if we can pre-qualify you for a loan beginning at $2,600 while you are still in your home! If you have a bad credit score, that will not keep you from being eligible for a personal cash loan, so you should apply. If you are approved, you can use the money for anything you want or need. Call us today: (909) 361-4564.