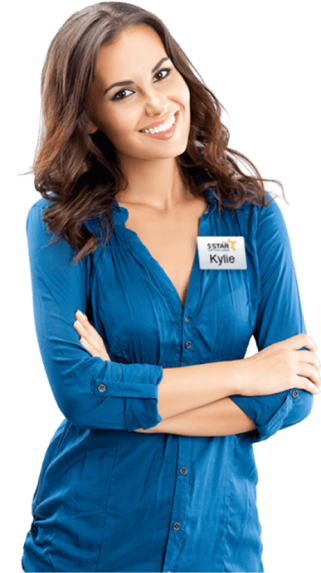 Customer Centered Service

Providing excellent customer service and a positive loan experience is 5 Star Title Loans top goal and we work tirelessly to make this happen for each and every customer.

Loans for Low Credit Score

We don't like turning away customers simply for having a bad credit score. We will work hard to get you a loan regardless of your bad credit.

Easy Application Process

We understand the urgency when getting a loan, so we offer simple options for applying. You can choose to apply either by phone or online.
Products

Car Title Loans

Payday Loans

Bad Credit Loans

Personal Loans

Online Title Loans

RV Title Loans

Process

Apply by phone or online

Complete all necessary requirements

Visit our local if needed

Get your money

Requirements

Car details

Personal details

Car title

Identification

References

Benefits

Keep driving your car

No prepayment penalties

No hidden fees

Quick funding

Personable service
5 Star Car Title Loans in Richmond, California
Living in Richmond, CA is a blissful experience. With attractive museums, calming nature, and adorable sceneries, the place is one of the best places to go for a hike.
However, with rising prices and climbing inflation, many people barely manage their monthly expenses and planning these things almost looks impossible.
Naturally, we wish for a way to have some extra money to plan some special occasions. Now, even though banks seem like the first go-to option, their strict credit requirements make it really hard to borrow any money.
At 5 Star Car Title Loans, we offer an easy and fast way for people to use their vehicle and apply for a personal loan to get emergency cash in as little as 24 hours.2
Let's learn how these car title loans work:
What Are Car Title Loans And How They Can Help You?
In an auto title loan, people can apply and get access to extra funds by temporarily surrendering their DMV-issued car title to registered car title loan lenders.1
These lenders will use your vehicle title as the collateral and place a lien on it to secure the loan and provide you with the cash you need.1
Unlike bank loans, car title loans in California put more consideration on your car's value and ability to pay back the loan,1 and even people with bad financial credit stand a chance to get funded.
Uses Of Car Title Loans, Richmond
Auto title loans are specifically designed as fast cash loans intended primarily to help people pay for their sudden bills and other household expenses.1
Unlike other traditional loans(bank loans, service student loans, etc), loan proceeds from title loans can virtually be used for any of your personal needs without any restrictions.1 Here are some of the most common ways people use their loan money in Richmond, CA:
To Pay Medical Bills

To Cover Legal Expenses

Plan and Pay For Anniversaries

To Pay for Funerals

Go For Travelling Trips

Pay their Monthly Rents
Title Loans are often referred to by several names including pink slip loans, vehicle title loans, auto equity loans, etc.
How Do Richmond Title Loans Work?
Title loans are known for having an easy and fast application process that allows people to get their loan approved without going through lengthy forms or waiting for days.2
Locals of Richmond who have a car to their name can contact 5 Star Car Title Loans to know their eligibility and apply online for a pink slip loan. But before you call our team or any other title loan lender, make sure that you satisfy the following conditions:
Conditions To Get Pre-approved For Title Loans In Richmond, California
While applying applicants must be 18 years old or above during

Customers must have a clean and lien-free car title registered to their name.

Residents must have a California-based or any other government-issued ID with them.

Candidates should have valid income proof to prove their repaying ability.
Steps To Get Online Title Loans In Richmond, CA
With 5 Star Car Title Loans, loanees can apply from their home and qualify for a car title loan in a few simple steps.
Step 1: Fill Out An Application To Know Your Eligibility
You can start by going to our dedicated website and filling out a short form to check to know whether you can get a title pawn or not.
Applicants only need to share some basic details including monthly income, address, cell number, and vehicle model, and based on that we will determine the eligibility and give you a callback.
Step 2: Submit the Request Documents
Once the consumer qualifies for the loan, we will contact and discuss all the essential terms and conditions of the title loan.1 Important things such as minimum loan amount, interest rates, and repayment terms will be discussed.
Once you understand and agree with the terms, you will be needed to submit a few documents to prove and verify your credentials.
Step 3: Sign The Contract And Receive Money Within 24 Hours
After our team verifies the information and gives the final approval, applicants need to sign a loan contract to express their written consent following which their loan request will be processed.
With the quick and dedicated team, we at 5 Star Car Title Loans focus on clearing your online application as fast as possible and applicants can expect to receive the money in their bank account within one business day.2
Necessary Documents For Auto Title Loans In Richmond, California
We at 5 Star Car Title Loans don't require people to have an impeccable credit history or go through lengthy forms to get a loan. Applicants can easily get an online title loan within 1 business day2 by turning in the following documents:
Vehicle Title
Borrowers in Richmond, CA must present a clean and lien-free title registered to their name.
Proof of Income
Many title loan companies will ask you to provide valid proof of monthly earnings. These can be your pay stubs, bank statements, tax statements, compensation letters, or any other proof of alternate income.
Proof of California Residency
Residents can present their voter registration card, lease agreement, receipts of various utility bills(such as electricity, gas, or credit card), rental agreement, etc.
Recent Pictures of Your Car
With 5 Star Car Title Loans, locals won't have to worry about visiting or waiting to get the vehicle inspection done.
They can easily do that by clicking some clear photographs of their vehicle from multiple angles (Including VIN and Odometer reading) and mailing them to our team.
Government Issued Photo ID
Customers will also be needed to submit a valid U.S. Government id or State identification such as a driver's license or passport while applying for a title loan in Richmond, CA.
Several References
Some of the loan companies can also require you to provide references, but these can be either professional or personal.1
What Are Auto Title Loans In Richmond Based On?
Title loans are primarily collateral-based loans where lenders' credit criteria and conditions can differ according to the state laws and the applicant.
But for the large part, most Richmond title loan lenders determine the loan eligibility and actual loan amount based on 3 major factors.
Car's Market Value
One of the biggest based on which the minimum loan amounts vary is your car's market value. As every vehicle's make, model, style, manufacturing year, and current condition is different the actual loan amount also varies.1
Fortunately, at 5 Star Car Title Loans, you may get access to around 75% of your vehicle's market value.1 So, if you are using a well-kept car, you can easily get a lot more money.
Equity Possessed In The Car
When you are borrowing the money in a title loan, you are surrendering a certain amount of equity for the equal amount of cash you need.
Thus, the more equity you have, the more money you'll be able to borrow against your car.
Ability To Pay Back The Loan
No lender wants to sanction a loan that can't be paid back. Thus, they want to know whether you can afford to repay on time or not. Having a reliable and consistent earning source depicts that you can easily repay and will help you to get more money.1
Apart from this, some lenders can also perform a routine credit check to determine the lending risk. While having a bad credit score won't majorly impact your loan eligibility, it increases the lending risk and some lenders can charge more interest rates for the title loan.
How To Repay Your Title Loans In Richmond, California?
As compared to payday loans, title loan customers don't have to carry the burden of paying all the pending loan amounts in a single payment.
With 5 Star, they can divide the loan sum into smaller installments and opt for a convenient repayment schedule to pay back in monthly payments.
In addition to providing a flexible repayment plan, we don't charge any sort of prepayment penalties and assist consumers so that they can pay back the debt smoothly without any stress.
Payment Modes For Title Loan Repayment In Richmond, CA
Mailed Check

Credit/Debit Cards

Bank Transfer

Online Payment Applications
Our team assists customers throughout the process and encourages consumers to pay timely installments so that they won't default on their loans and face any other penalties.4
How Long Does It Take To Get Approved For A Title Loan?
At 5 Star Car Title Loans, our team focuses on keeping the entire loan process straightforward where the consumers don't face any issues or hiccups while getting approved for their cash advance loan.
Talking about the approval time, it is mostly dependent upon the applicant. The quicker they meet up with our eligibility criteria, the faster we will be able to process the loan and send you the amount you need.1
In addition, borrowers may be able to receive their funds through direct deposit, Moneygram transfer, or mail within the same business day.