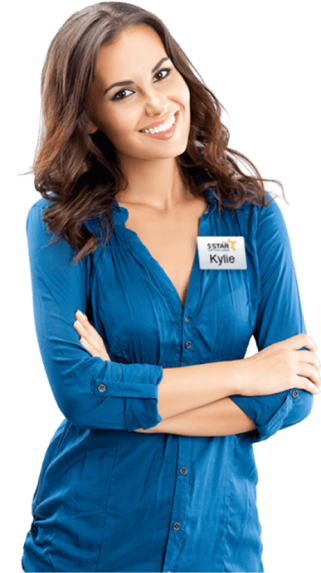 Customer Centered Service

Providing excellent customer service and a positive loan experience is 5 Star Title Loans top goal and we work tirelessly to make this happen for each and every customer.

Loans for Low Credit Score

We don't like turning away customers simply for having a bad credit score. We will work hard to get you a loan regardless of your bad credit.

Easy Application Process

We understand the urgency when getting a loan, so we offer simple options for applying. You can choose to apply either by phone or online.
Products

Car Title Loans

Payday Loans

Bad Credit Loans

Personal Loans

Online Title Loans

RV Title Loans

Process

Apply by phone or online

Complete all necessary requirements

Visit our local if needed

Get your money

Requirements

Car details

Personal details

Car title

Identification

References

Benefits

Keep driving your car

No prepayment penalties

No hidden fees

Quick funding

Personable service
5 Star Car Title Loans in Royal Oak, Michigan
Living in the trendy downtown with a great shopping area and bars of Royal Oak means often you are out hanging out with friends or buying the latest items.
While these things are great, these expenses can derail our set budget and push us into situations where we have some big occasion coming up but we are out of money.
During that phase, most Royal Oak residents look for ways so they can plan their outings, parties, and anniversaries without worrying about their budgets and have a blissful experience.
Fortunately, title loan services from 5 Star Car Title Loans can be easily availed in as little as 24 hours2 and people can get some easy and fast cash to cover their sudden personal and household needs.
Read further to understand how these online title loans work and can benefit you:
Auto Title Loans: What Are They?
Popularly known as pink slip loans, car equity loans, and title pawns, auto title loans are fast and easy cash advance loans that allow a borrower to avail extra money by using his car as collateral.1
In these loans, the applicant uses a clean and lien-free car title, and on that title, the lenders place a lien to secure the loan and provide them with desired funds.
Placing a lien gives temporary ownership to the title loan providers and when the borrowers pay off all the pending amount, the lien is removed and he gets back the full ownership.1
Nonetheless, the reason these collateral loans are so famous is that here people don't have to submit their car, they can take the money and continue to drive their vehicle wherever they want.1
What Are The Requirements For Pink Slip Loans?
If you wish to fund yourself and avail of title loan services in Royal Oak, MI, you need to fulfill some basic conditions required by the title loan laws of the state.1 Here are some particulars that will help you to get your title loan faster.
Prerequisites To Qualify For Title Loans, Royal Oak
During the time of application, individuals must be 18 years old or above.

These applicants must carry a valid government-issued ID with them.

To apply, they must have a clean and lien-free vehicle title registered in their name.

Individuals should have a stable and reliable income source.
List Of All The Documents Required By Title Loan Companies in Royal Oak, MI
Lien-Free Vehicle Title
In auto equity loans, online lenders place a lien on the car's title to secure the loan and provide emergency money. Therefore, when you thinking of applying for a car equity loan in Royal Oak, make sure you use a vehicle with a clean and lien-free title registered in your name.1
Proof Of Income
Commonly when you fill in your application, the title loan company would want to know about your income and whether you can repay the loan or not. They can ask you for documents such as recent payslips, bank statements, or compensation letters as part of the document verification.1
Proof Of Address in Royal Oak
Title loans are usually sanctioned locally which means you need to have a valid document proof for that particular address. So for verification purposes, these lenders can ask you to submit documents such as property tax receipts, rental agreements, credit card bills, etc.
Government Or Michigan Issued Photo Id
Generally, while applying for car title loans in Royal Oak, your lender will ask you to present a valid photo Id to prove your identification. You can use your govt-issued driver's license or a passport and get approved.
Latest Photographs Of The Car
For a car title loan, many loan terms are based on your car's market value. That is why they will require you to go through a vehicle inspection to determine whether your car qualifies and is worth the loan amount or not.1
The great thing is when you choose to apply for your title loan with 5 Star Car Title Loans, you can save your time by skipping the in-person inspection and directly mailing photographs of your vehicle to our team.
Getting A Car Title Loan In Royal Oak, Michigan
With the smooth and streamlined application process of 5 Star Car Title Loans, people can take the benefit from same-day title loans2 without facing any complications that come in other traditional loans.
Here are some easy steps to follow for applying and getting approved for online title loans in the city.
Steps To Apply For A Car Title Loan in Royal Oak, MI
Fill out The Online Application
To apply for a title loan, applicants can directly visit the 5 Star Car Title Loans website and fill an online form to know whether they are eligible for one or not.
This application form requires some basic information including income, vehicle model, address, etc. and you can get a conditional approval within 5 minutes.2 If you face any inconvenience or get any doubt, you can call our local team and they will assist you in filling out the form.
Submit Your Documents
Once your loan application is pre-approved, our loan team will reach out and discuss all the necessary terms and conditions of the pink slip loan.
Make sure you understand all and clear your doubts without any hesitation.
Once you agree with them, you will be prompted to send in the above-mentioned documents to be used to confirm your credentials and process your application.
Sign the Contract and Receive Cash
After the final verification, we will send a detailed contract mentioning all the discussed terms such as how much cash you can access, the interest rate, repayment schedule, etc.
Go through the whole contract and send a signed copy as soon as possible. Once we receive that our team will process the loan request and you can expect the loan money into your bank account within 24 hours.2
What Are Car Title Loans Based On?
Unlike other bank loans, car title loans have flexible credit criteria where the eligibility, interest rates, and minimum loan amounts vary on 3 major factors
Ability To Repay The Loan Amount
Your income is one of the major factors that determine your eligibility for the loan and has an impact on how much you can borrow. We know that people earn their living from various sources hence it's not necessary for people to have a traditional job to apply and qualify for a title loan.
Equity In The Vehicle
Auto title loans use your vehicle title and equity and based on that give you the loan.1 When you apply for a certain amount, you give up the equivalent amount of equity to the lender. Thus, if you want more money, make sure you use a car with more positive equity.
Car's Market Value
Generally in a car equity loan, lenders get a temporary claim on your car by placing a title and in exchange gives you extra cash. Now the amount of funds varies according to the market value of your car. The better the car's condition, the more its value and the more cash you can get.
Where Can I Use My Auto Title Loan Proceeds?
While other loan lenders have a say in where you can use the loan money, auto title loans were created to help the working people tackle their unexpected and sudden expenses without any restrictions.
Money from title loans can be easily used for various purposes and situations that arise in the day-to-day life of a normal person. Here are some ways the locals of Royal Oak use their title loan cash:
To Pay for Traveling

To Cover their Legal Fees

To Cover Funeral Expenses

To Plan For Special Occasions like Birthdays, Anniversary events, etc.

To Pay Rents and Other Monthly Bills
Along with these, you can virtually use it for all your personal and household needs and the great part is that you can keep driving your car while paying back your installments.
Can I Qualify For Auto Title Loans When The Title Is Not In My Name?
Regrettably, no you can't!1
Title loan companies base the whole loan eligibility on certain factors and your car and income source are major ones in that.1
Thus, if you don't have a qualifying title registered to your name the loan can't be secured and you won't be able to get the extra money.
Fortunately, there's a very easy way where you can follow some simple steps and you can get the title of your car transferred to your name.
Steps To Transfer the Car Title To Your Name in Royal Oak, Michigan
Visit Your Nearby MI DMV
The first step is to find out the local office of DMV(Department of Highway Safety and Motor Vehicles) or visit their website to understand how the whole process works.
Necessary Documents
Regardless of whether you want to apply online or visit the nearest DMV, you'll need to show certain documents (such as your vehicle's original title & registration, driver's license, verified odometer reading, and proof of insurance, etc) to get your title transferred.
Fill out the Form and M