Title Loans in Lincoln, CA
Exciting news for people in need of quick loans for bad credit! You now have a chance to send in your applications for online title loans in Lincoln, CA straight from your mobile phone! We also accept online applications from tablets and laptops. Wherever you have internet, you can send in your request!
5 Star Car Title Loans is now offering a more convenient way to get your money with online title loans in Lincoln, CA. Don't leave your house! You can stay home to apply for your instant cash advance online!
Car Title Loans Online Application Process
Pre-Qualify – Fill out our quick online form and instantly see if you pre-qualify

Additional Info – Use our mobile app to upload vehicle photos, driver's license and car title

Loan Offer & Terms – One of our loan specialists will contact you with your loan offer
Online Car Title Loans - How it Works:
A. Submit the following info to see how much cash can you get:
Your name
Phone number
Vehicle information
Address
Date of birth
Social Security Number
B. Once pre-approved, our user-friendly mobile app will allow you to upload:
Photos of your vehicle
Driver license
Car title
C. Get an online title loans offer and terms
Upon receipt of the above described items, one of our loan specialists will be contacting you with your loan offer and terms.
D. Complete the loan process and get your money
To complete the title loan process, all* you'd need to do is stop by any FedEx store and ship the title to us. Our loan agent will print out a FedEx label for your convenience.
Once the title was dropped, we will simply direct deposit the funds into your debit or prepaid card.
*In some case you will be required to stop by one of our GPS Centers so we can install (free of charge) a tracking device onto your vehicle.
Online Title Loans in 4 Easy Steps
Enter Your Car's Details: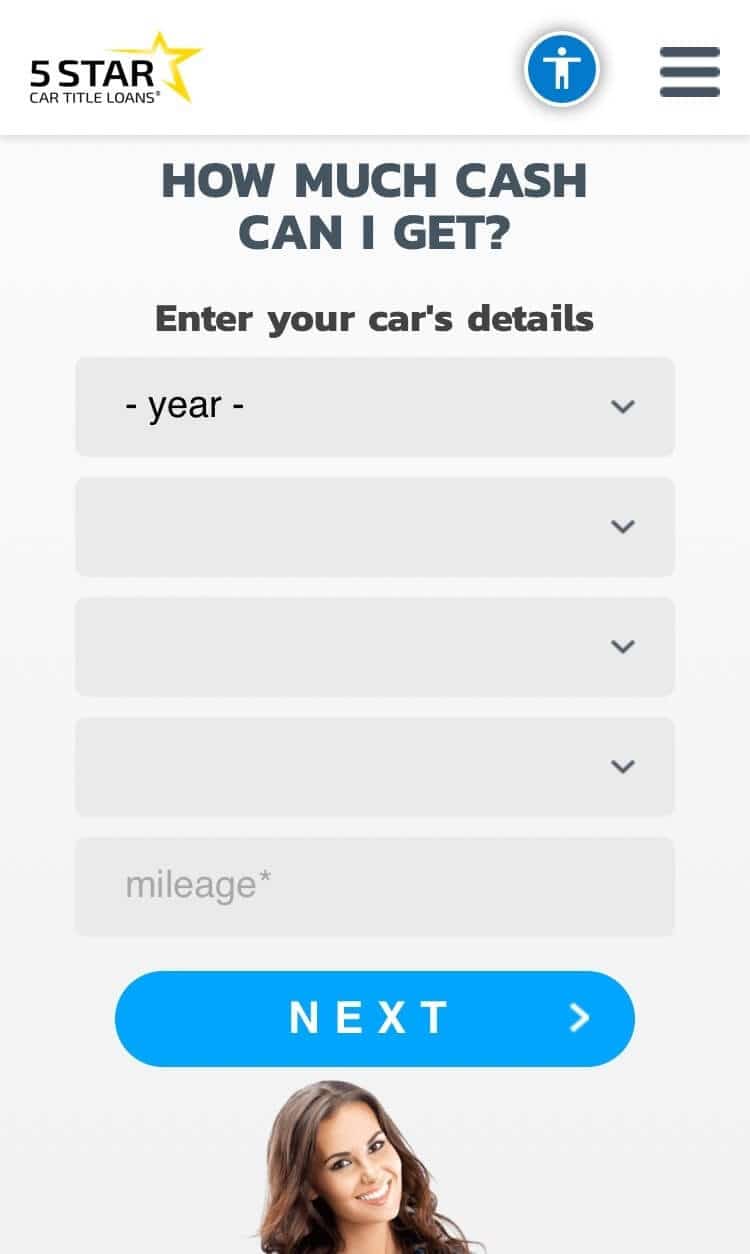 Your Personal Information: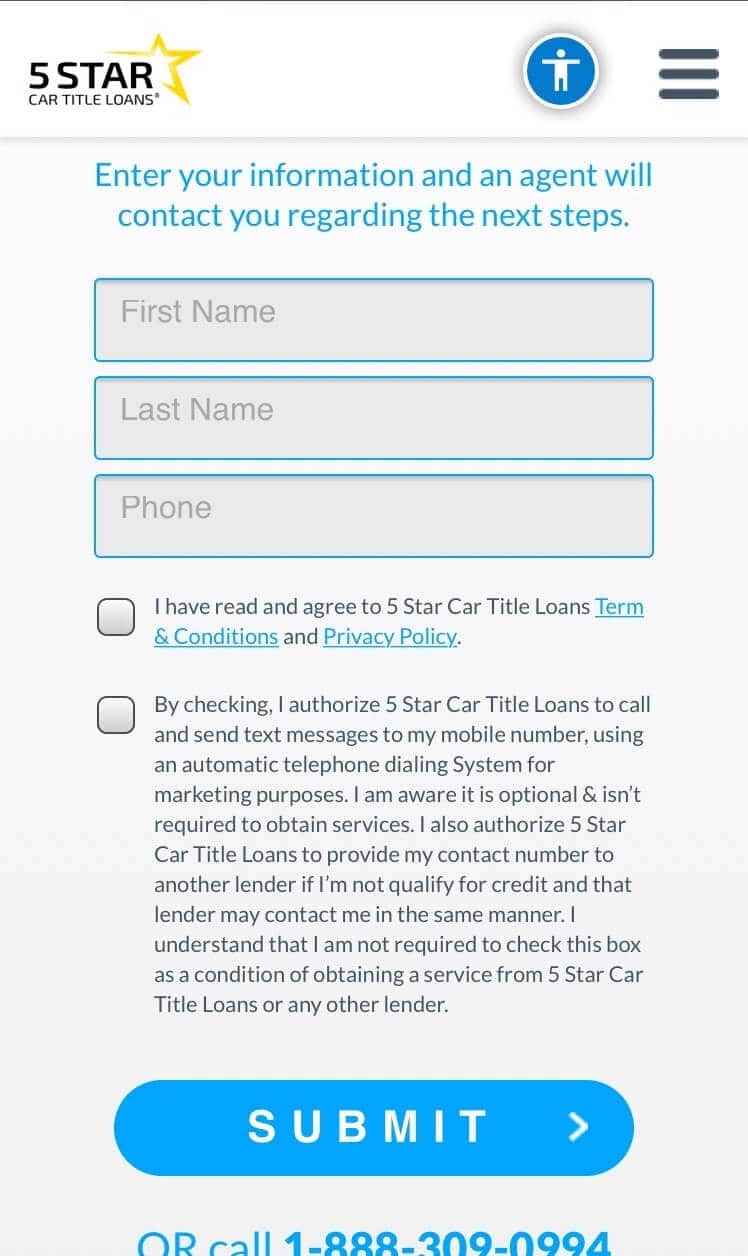 Address, Date of Birth and SSN: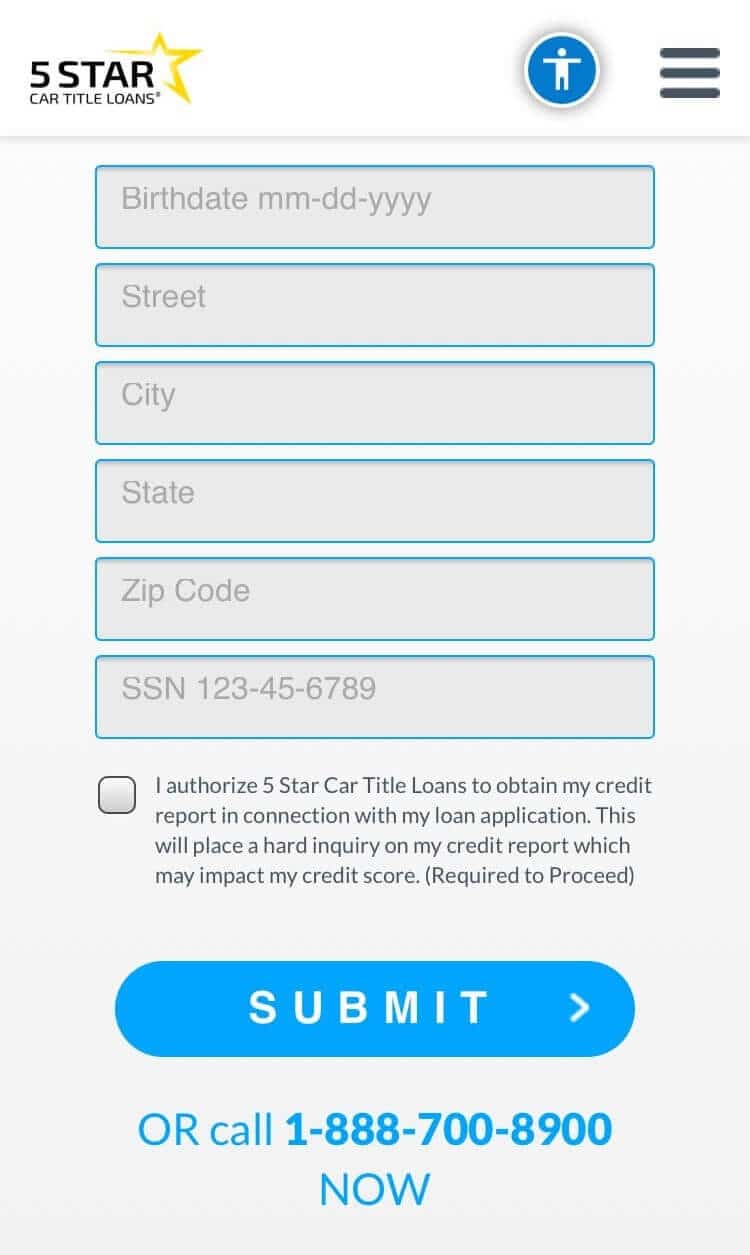 Upload Photos of Your Vehicle: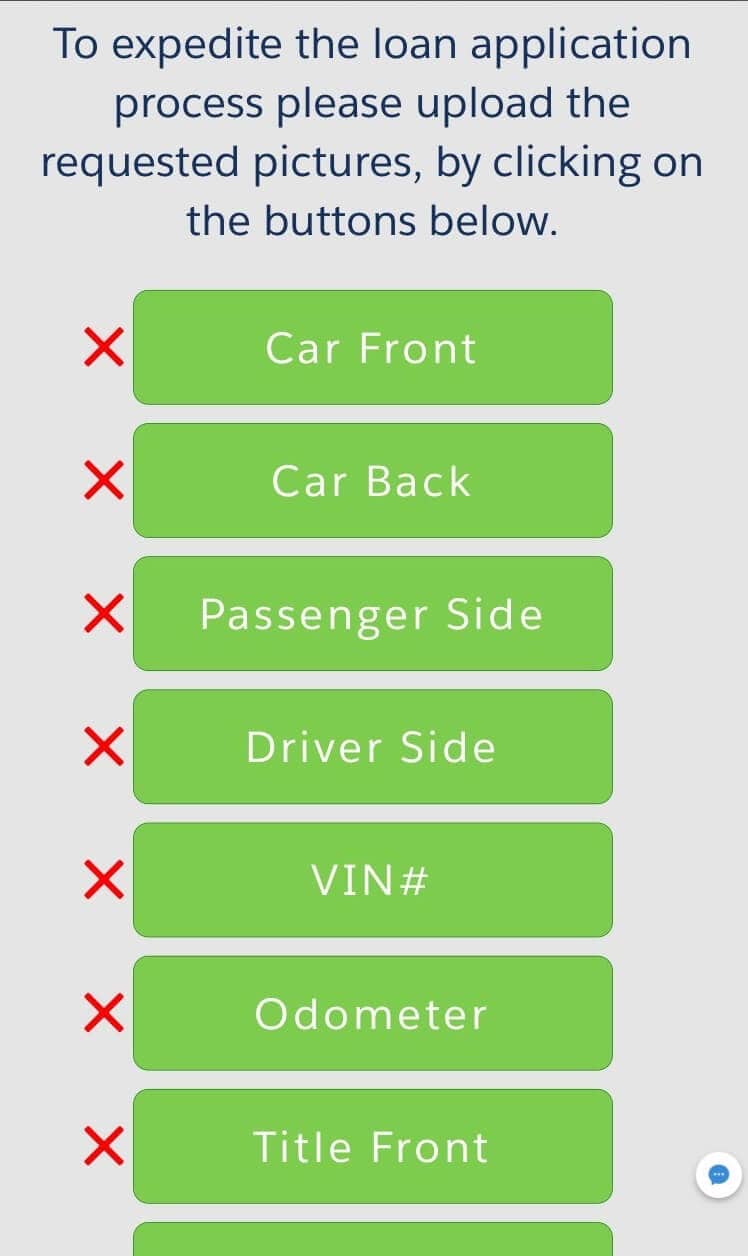 Getting an Online Title Loan in Lincoln, CA Streamlines the Process:
Compare rates and pre-qualify online
Apply using our website instead of visiting our branch
Get a fast approval decision
Get a free estimate – compare a variety of offers!
Get a direct deposit of funds* to your debit card or a prepaid card


*You can also walk into any MoneyGram location inside a Walmart Center close to you and pick up Cash at the MoneyGram kiosk
Products Details
Any Credit History Accepted

Title Loans Ranging From 25% to 120% of Car's Value

No Extra Fees or Penalties for Prepayment

Annual Percentage Rate (APR) From 60% Up to 175%

Keep Driving Your Vehicle!
Facts to Know About Title Loans
When you need fast cash and you send an online request to 5 Star Car Title Loans, you can expect a quick reply. As you apply, you should keep the following facts in mind regarding cash title loans:
Lowest loan amount is $2,600
Average Percentage Rate (APR) is from 50% to 175%
All credit types accepted: good, bad or no credit
Interest rate type: simple interest
Payment options: debit or credit card by phone, cash, online payments or cashier's check
Types of payments – one payment monthly
No hidden fees or prepayment penalties
Pursuant to CA Financing Law License #603F508
What Types of Loans Are Available in Lincoln?
At 5 Star Car Title Loans, we want to offer the best title loans to anyone who needs cash and is qualified. We don't offer only one loan type, but we have several options. Here is a list of our types of title loans:
Car title loans
Boat title loans
ATV title loans
Motorcycle title loans
Unsecured loans
Pawn loans
Personal loans
These are the loan types we have available, but if you need something not listed, call our office to find your best options.
Ways You Can Repay Your Car Title Loans in Lincoln
After you sign the contract for car title loans in Lincoln, you have 30 days until you need to make your first payment. Here is a list of payment options for you to select from:
Cash payments – Can be taken directly to any 7 Eleven store
Online payments – Use your online account to transfer your payment each month. If you need to create an account, our customer service department would be happy to help
Check or cashier's check – send these in by regular mail
Call us to pay by phone – have your credit/debit card near you
If you need help selecting the best payment method for you, call us and we'll help.
Getting Fast Loans for Bad Credit
Many things can happen that leave a person with bad credit. We understand that and can approve applications for fast loans for bad credit even for bad credit applicants. That's because we don't only look at your credit history when analyzing an application for pre-approval. We also take into account factors such as:
Value of your automobile
Steady income sufficient for paying the loan
Credit criteria
Whatever your credit history is, you can still be approved for easy loans for bad credit.
Frequently Asked Questions
1. What is an online auto title loan?
Online auto title loans are fast, personal loans that you can get online. They use the value of your auto as security. You can keep your car, but you'll be required to submit your title until the title loan has been paid in full.
2. I'm thinking of applying for fast cash online. What are the requirements?
You will need a car that has enough value to be used as collateral. Additionally, here are the main things you'll need to get fast cash online:
An official ID
Pictures of your car
Valid car title
Income sufficient to make payments
Contact details, such as address and email
Employer's contact info
Oftentimes more information is needed, such as your insurance records or proof of residency. In those cases, the loan agent will contact you.
3. What amount of money can you give me with car title loans in Lincoln?
It all depends on your car's value and your ability to pay, along with other credit criteria. The minimum amount of car title loans in Lincoln is $2,600, but they can be higher depending on your situation. When you send in your application, our loan agent will review it and let you know how much you can get.