5 Star Car Title Loans Google Reviews:
Took me a while to find a good company that I wanted to work with. Glad I took my time. 5 star was worth the wait!!
chiris morris
11:57 11 Feb 21
The agents here were great and courteous from the start of the loan all the way to the end. I didn't feel like they were just after my money or anything like that.. Genuinely nice people who are always happy to help.
Aish verse
19:56 19 Jan 21
I will advise any person that asks me to check out 5 star title loans in turlock. Been with them for a while and never any complaint.
Francis Aldrich
12:39 05 Jan 21
So awesome that they offer boat title loans! I don't have a car and this proved to be a great way for me to borrow the money I needed. Thanks for the help!
Cameron Watson
08:16 26 Dec 20
It was all done very fast and professionally. They explained the terms clearly so I felt confident that I could make the payments and that this loan was good for me. Thanks from me and my family!👍
OKeefe Melda
06:05 24 Dec 20
I recently contacted 5 star loans for a quick loan because I went through a divorce. Very glad I chose them they were extremely professional!
Jacobson Miller
18:11 11 Sep 20
Just found out 5 star has boat title loans. I previously had car title loans with them and I always liked them a lot. I highly recommend them.
Alan Geoffrey Prince
05:54 29 Aug 20
The processing of my car title loan in 5 Star Car Title Loans was really fast. I took a half-day leave, but now I'm enjoying my brunch.
Arthur Johnson
09:46 05 Apr 20
I wasn't sure if I could get enough money when I applied for a title loan online in Turlock. Turns out that they gave me more than I expected.
Pearl Parker
10:39 02 Mar 20
My budget is pretty good and I can stay in it most of the time. But when I helped pay for my daughter's wedding that really took a lot more money than I had. It was worth it for me to get an instant online title loan so she could have the wedding she had always dreamed of.
I had so many bills coming in on my head all the time that I couldn't even keep track of them. They had different due dates and I was only paying the minimum so I'd have enough to pay on each debt. That caught up with me after a while. I wasn't getting rid of my debts - they were only growing! I did something that I thought was pretty smart. Someone mentioned car title loans to me, so I applied for one. They gave me enough money to pay off all

those pesky bills. Now, I only have to think about one payment each month. Life is easier like that.

read more
Austin Davies
23:34 21 Oct 19
Desiree Davis
23:40 17 Oct 18
About This Location
Arrizon Insurance Agency provides registration services for 5 Star Car Title Loans customers. The store is located at 884 West Main Street, Suite B, near the intersection with West Ave S. If you live in Turlock and in need of registration services, stop by Arrizon Insurance Agency that works with 5 Star Car Title Loans in Turlock. Arrizon Insurance Agency provides our clients with unmatched customer service. 5 Star Car Title Loans does not issue loans at this location.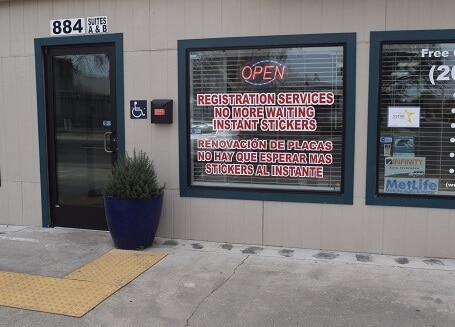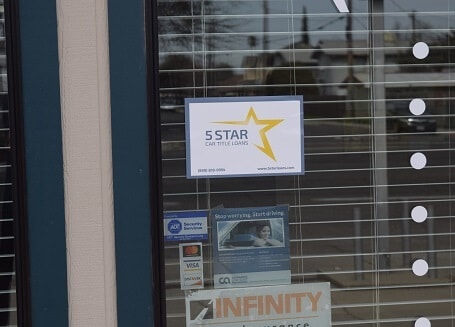 5 Star Car Title Loans in Turlock
Are you living in Turlock and getting behind on your bills or your credit card payments? Send in your online application to 5 Star Car Title Loans in Turlock and get the money you need for catching up on bills or buying stuff you need.
How Much Can I Borrow?
5 Star Car Title Loans in Turlock begin with minimum loans of $2,600. But keep in mind that the amount is determined by how much value is in a vehicle that you own, your ability to pay back the money and whether you meet our basic credit specs. With all of that taken into account, your car title loan could reach $20,000! Apply today so we can evaluate your request.
Can My Husband Cosign My Car Title Loan?
Sure, if your husband also meets our credit criteria. Send us the information and let's check if your spouse can cosign your title loan. We have many ways of helping you qualify for car title loans, so send us your online application or call (209) 580-6655 directly to our offices and speak with one of our agents. We can also give you the details of the car title loans near you.
Why Are Auto Title Loans Better than Payday Loans?
Auto title loans are better in many ways, but one of the most valuable differences is in the payback period. Car title loans are not issued for only two week periods, like payday loans are. Instead, they are issued for longer terms. That means two things to the borrower. Firstly, since they are paid back over a longer period, the amount of auto title loans can be much higher than payday loans. Secondly, after paying the convenient monthly payments, the contract amount reaches zero. Nothing more is due. The problem with payday loans is that they are not only very short term, but the amounts are also very small. If the borrower wants to take out another payday loan, the term begins over again. In the end, the payday loans are very difficult to get down to a zero balance, since they keep starting over.
How Do I Apply for Car Title Loans Online?
Fill in your application for car title loans and submit it online. You can also call us for the California location near you. There are many locations you can apply for auto title loans in California.