A truck title loan involves putting the title of your truck up for collateral with a lender. That lender claims a temporary ownership of your truck title while providing you with some quick cash that you can use to satisfy any current financial obligations.
Apply now and find out if your truck vehicle qualifies you for a title loan with 5 Star Loans:
How do truck title loans work?
Like other types of car title loans, with truck title loans the lender will take your valid truck title as security against a loan. By only submitting your title, you can keep your truck and use it as you wish. Trucks can be more valuable than regular car title loans, so the length of the term might be longer as well. At any rate, so long as you are making your payments you can keep your truck.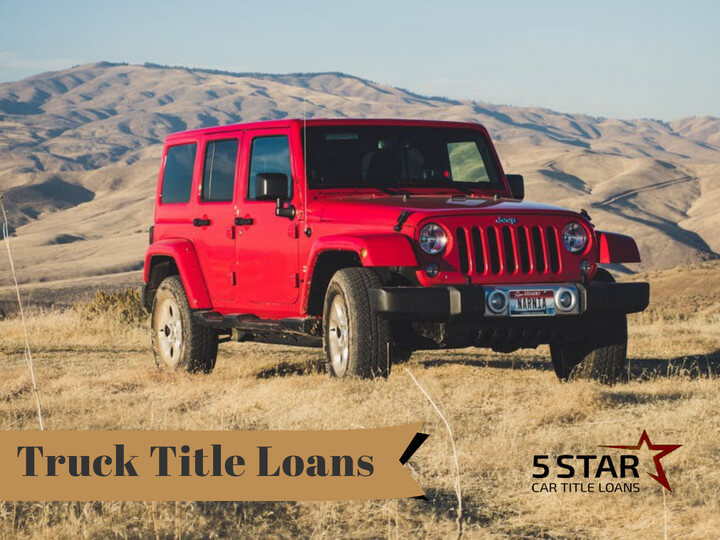 If you have poor credit or no credit score to your name, don't let that worry you. We can still help. Contact us today for an estimate. We look forward to serving you!
Title Loans for Semi Trucks
If you own a semi truck and want to apply for a semi truck title loan, you can either check out your neighborhood car title loans companies or search for a lender specializing in loans against commercial vehicles. When you choose a title loan company, you can get information on using a piece of heavy equipment as collateral.
Advantages of Truck Title Loans
Rather than going into a bank to apply for a loan, you can opt for a title loan against your truck. Here are a few of the benefits you will enjoy:
Many title loans are completed in a day or less. Apply online or call us for the fastest service

No worries about credit types. You can have any credit type, good or bad!

Truck title loans can be higher than car title loans

Keep driving your truck as you send in your payments

Possibility of longer loan terms of 24-36 months

Fit the loan terms to your needs and ability to repay your loan semi-truck or truck title loans
Getting a Truck Title Loan
You can call around to find a lender that is suitable to your needs. Once you find one that you feel comfortable with, you can probably start the ball rolling either by phone or by sending in an online application. Either way, a loan representative will get in touch with you to take you to the next step. If you get your documents ready ahead of time, you should be able to move through the loan process very quickly.
Before the loan is finished, you will probably need to take your truck and your title into the lender's office. Your title will be checked as well as the condition and value of your truck.
Can I Qualify for a Truck Loan?
A clear title in your name without liens against it. If you happen to be using the truck title as security for an existing loan, ask about information for getting an auto equity loan.
Check the age limitations in your state, but typically you must be over 18
Proof that you are living in the same state where you are requesting a truck title loan. You'll also need proof that you have insurance on your vehicle.
Your income must be adequate to cover the monthly payments. Prepare a list of all sources of income that includes your salary, government benefits, pension fund, child support or any other funds that you receive.
What's Required When Considering a Truck Title Loan?
Requirements for a truck title loan will be different for each state, and it's important that you research your own state's regulations regarding vehicle title loans before making an official decision.
Most states will agree on certain things. For instance, many – including California – require that you be at least 18 years of age. Some set even stricter age limits in place and ask that you be a minimum of 21 years old. You will also need a steady income and a vehicle in your name that you can put up for collateral. Another requirement is showing you can repay the loan.
If you have a vehicle but the name on the title isn't yours, this is likely to cause problems for you down the line, though you should still check with your lender to see what options are available to you.
The Benefits of Truck Title Loans
Trucks, depending on their ages and working conditions, usually cost more than standard, four-door cars. Trucks are larger and have more capabilities. They can be used for transporting goods, and they can serve a great purpose in construction projects and related businesses. Thus, they're likely to be worth more than standard sedans or coupes.
Some Extra Considerations:
A. Larger vehicles are usually worth more
In addition, larger vehicles are usually worth more so they are prone to lower interest rates. Therefore, you're likely to experience easier terms with your loan, which heighten your chances of paying the loan back quickly.
B. Lenders won't require a perfect credit score
Another advantage is that some lenders won't require a perfect credit score when considering your ability to repay the loan. In this case, they have your vehicle. If you can't pay back the money or if you default in some way, they can sell your vehicle for a profit and get their funds back through the sale, as long as you arrange it with your lender.
Extra Steps You Can Take
Most of the time, truck title loans are designed to be fast and give you the money you need within 24 to 48 hours. The process can be simple and painless if you are working with a solid lender and you have all your resources (i.e. showing the ability to pay the loan) in place.
If you decide that you need more time to tackle your title loan, you have the option of arranging automatic payments with your lender. The company issuing the money cannot do this without your permission, but the advantage here is that you don't have to worry about writing and sending in a check every month. The lender can just take the money out of your bank account, taking some of the responsibility off your shoulders.
What to Do When Your Truck Title Loan Ceases
As soon as your truck title loan is over and paid with, it's important to consult with the right government agency to let them know that the lien (or hold) has been removed. Typically, you'll want to get in touch with your local Department of Motor Vehicles (DMV) office.
The process usually involves:
Getting the right paperwork together

Reporting the data to the DMV

Checking to any final issues
The lender will provide you with written proof that the lien has been taken off once the loan is paid back. Take this paperwork to the DMV to show that you are once again the rightful and legal owner of the car. The DMV will process this and take the lender's name off the title.
How Long Does This Last?
After the lender's name has been removed and you are again listed as the owner, the DMV will send you a document confirming your status. Go over it carefully to make sure there are no errors and that no information has been omitted or left out. If everything looks good, you can move on. Otherwise, get in touch with the DMV or issuing agency right away and ask that the mistakes be corrected ASAP.
Frequently Asked Questions about Truck Title Loans:
Q: How should I go about finding a lender?
A: There are several factors to check, but like anything else, you want to go with whoever will give you the best deal. You can call up companies and ask over the phone, speak with friends and neighbors or stop in one of the offices. Pay attention to professionalism and friendliness as well as the bottom line.
Q: Does California law allow me to get a commercial title loan even with poor credit?
A: In California, any title loan offer you receive will be according to how much your truck is worth and subject to meeting the title loan lender credit criteria, which includes applicant's ability to repay the loan. Go ahead and fill in the application on the website and submit it for consideration. Someone from the lending company will get in touch with you for more information regarding the loan.
Q: What happens if I want to pay off my loan ahead of time?
A: If you can do it then great – nothing will happen! There are no prepayment penalties for early payment of truck title loans.
Q: If my application for a title loan is approved, do I have to accept it?
A: Even if your application is approved and you receive an offer, you are not obligated to accept it. It will, however, let you know how much you can get. It will also help you compare offers between different lenders.
Q: After sending in my online title loans application, do I need to go to a title loan office?
A: Sending in your application will give you a quick start, but you'll still need to go into an office to get your truck approved, sign the contract and learn how to get the cash. Calling the lender is another way to get the process started.
Are You Ready to Apply for a Truck Title Loan?
If you are thinking about getting a truck title loan, give us your time and consideration. We are 5 Star Title Car Loans, we've been working for years to help people just like you get the cash they need to tend to life's everyday little problems. We know that things happen you can't always predict. Everyone needs a little financial assistance now and again, and we'd like to be the ones who are there for you.
We have several plans available and they're all designed to assist you. Applicant approval is determined by our specific credit criteria. We examine several different factors including your credit history and your ability to repay the loan.
[yasr_overall_rating size="small"]
[yasr_visitor_votes size="medium"]