Secured Loan vs Unsecured Loan: What is the Difference?
There are so many loan options out there and taking out a loan can feel overwhelming at times– especially as a first-time borrower.
You've probably seen multiple lenders state that they have secured or unsecured loans, but what really is the difference between the two?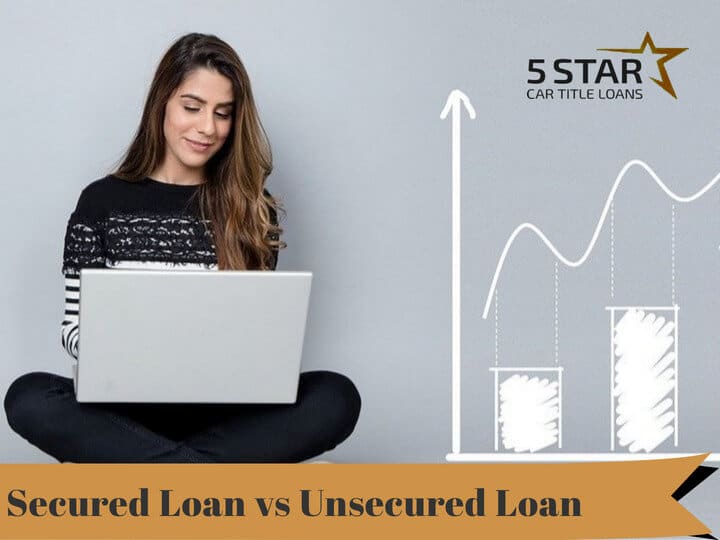 Understanding the differences between Secured Loan and Unsecured Loan is an important step before taking out any sort of loan, whether secured or unsecured.
If you're looking for fast cash, a secured or unsecured loan may be the solution for you. So, let's dive into the major differences between the two options. Once you have a better understanding of unsecured and secured loans, you'll be able to make a more informed choice when you to apply for a loan with 5 Star Loans.
Secured Loan
A secured loan is a loan in which the borrower puts up some asset as collateral against the loan. It is the most common way to borrow large amounts of money. A secured loan of this type can be made against any kind of valuable collateral, such as a car, boat, RV and even a house.
Most lenders are therefore able offer more money and better rates on secured loans than on unsecured loans. Since the lender has the asset as a guarantee, they can reclaim the value of the loan if you default and can usually offer better terms. The lender will hold the title for the collateral until the loan is paid in full.
What kind of better terms can you get on secured loans in contrast with unsecured loans?
A. Lower rates of interest
B. Higher Funding Limits
C. Longer repayment terms
D. Lower monthly installments
It is important to note that any terms on your loan will most likely depend on your own personal circumstances and the amount of equity you have in your collateral. Free equity meaning the difference between the value of your collateral and how much you still owe on it.
Examples of Secured Loans
Home Mortgage –A mortgage is a type of loan loan that the borrower uses to purchase a home or other form of real estate and agrees to pay back over a certain period (Usually 20-30 years).
Auto Loan – Auto loans is a financing option you can obtain by placing your vehicle's title as collateral.
Boat Loan – A boat loan is an installment loan with fixed monthly payments, similar to auto loans.
Recreational Vehicle Loan – A recreational vehicle loan is a loan to pay for an RV or to finance your existing RV.
Unsecured Loans
Secured loans are a great option for anyone that owns a property and needs an emergency loan. However, there is another option for people who don't have a collateral to put down: Unsecured Loans!
Unsecured loans, also known as personal loans, are most often offered to people with relatively decent credit scores, i.e., people who seem more likely to be able to make their payments on time and pay off the loan in full.
This is because lenders consider these loans riskier, and the better your credit score, the more reliable you look. Most importantly, an unsecured loan does not require you to put up collateral as a security on your loan.
What types of unsecured loans are there?
A. Credit Cards – Credit cards issue a line of credit based on the cardholder's promise to the card issuer to pay them back.
B. Personal Loans – There are many types of personal loans and they can vary from a few hundred to tens of thousands of dollars.
C. Student Loans – A student loan is a type of loan specifically designed to help students to pay for college. They are generally available from both the Department of Education and private lenders.
D. Home Improvement Loans– A home improvement loan is an unsecured personal loan that can be made without providing any collateral on the loan. As with personal loans, they can range from a few hundred to tens of thousands of dollars.
What to consider before taking out a loan with 5 Star Loans?
Every person's circumstance is unique and there are no hard and fast rules over which type of loan better suits your specific needs. However, we do recommend considering a few things before applying for a loan with 5 Star Loans:
Loan Eligibility: What is the status of your credit score? And how will that affect your eligibility to be approved?
Funding Amount: How much do you need to borrow? And how fast are you able to pay back?
Affordability: What is the monthly amount you can afford to pay on your loan?
Alternatives: What are your alternatives to taking out an unsecured or secured loan?
With most lenders, the contract terms on unsecured loans are usually not as friendly as secured loans. Meaning: Higher interest rate, higher monthly payments, and longer loan maturity. However, if you are denied unsecured credit, you may still be able to obtain a secured loan regardless.
*Car title loans take multiple factors into consideration for a loan approval: This includes your ability to pay your loan, the equity value of a qualifying vehicle, as well as a source of income to pay monthly on a car title loan.
Why 5 Star Loans is the best option for you!
If you need some extra money in the bank, 5 Star Loans may be the right solution for you! We have been in business for many years and specialize in getting customers approved quickly and tailoring a loan specific for their financial needs.
There's no reason to let your bills pile up until you are no longer able to afford paying them back! At 5 Star Loans we can approve almost anyone, whether you have bad credit or even no credit at all! Contact us today to get on the path to a more stable financial future with a secured or unsecured loan!