Are Title Loans Legal?
If you're in a jam and you need money fast, there are a few options out there to choose from. If you're considering a title loan, you're likely wondering about title loan regulations.
However, the regulations vary from state to state. Depending on where you are, a title loan could be right around the corner waiting for you.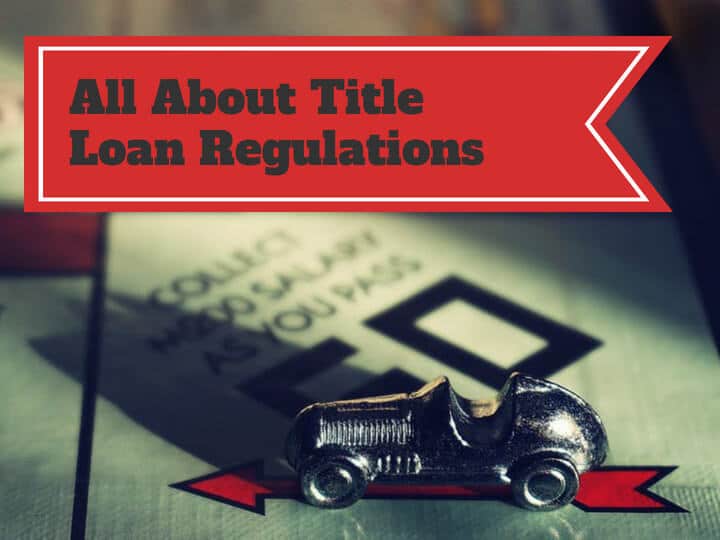 E

xamine some of the specific rules that apply to states where title loans are legal in
The States Where Title Loans are Legal Include:
Alabama
Arizona
California
Delaware
Georgia
Idaho
Illinois
Mississippi
Missouri
Nevada
New Mexico
South Dakota
Tennessee
Utah
Virginia
Wisconsin
Let's Examine Some of The Specific Rules:
A. Title Loan Loopholes
Lenders in these states can operate on triple-digit APRs, but in some states those APRs are regulated. In addition, these lenders have the option to garner the full value of a vehicle even if the balance owed by the borrower is considerably smaller.
Other states permit title loans, but on a limited basis. In California, for example, interest rates are typically capped for loans up to $2,500.
For most title loans, the standard APR is 300%, so if you take out a loan of roughly $2,500 and then require the full term to repay it, you'll likely wind up giving your lender about $5,000 in interest alone. Add that to the principle loan amount of $2,500, you'll have paid down approximately $7,500.
This same regulations also exist in states like South Carolina, but the Palmetto State has set the minimum loan amount at only $600 and charges a considerably lower APR of 36%. In states like Kansas, title loans often serve as "open-ended lines of credit," and interest rates are not capped. This allows lenders to charge whatever they want for how much they want.
Louisiana has set the minimum loan amount at $350, and offers a two-month payback period for its borrowers. This allows Louisiana to weave its way around predatory lending regulations.
B. Fully Legal Title Loans
In other states, most title lenders can operate under far less scrutiny. Alabama, for example, offers loans with no set maximum limits, so the borrower can pretty much garner any amount they want. Interest rates in Alabama are often capped at 25%.
Like Alabama, maximum loan amounts are not set in Arizona, but the lenders can set different terms for each loan they provide.
• On loans of up to $500, interest rates cannot be higher than 17%.
• If the loan is higher than $500 but less than $2,500, the interest rate cannot be higher than 15%.
• If the loan is higher than $2,500 but less than $5,000, the interest rate will be 13%.
• All loans above $5,000 have a capped interest rate of only 10%.
Granted the borrower does not pay the funds back within a period of ten days, the lender can apply a late fee of up to five percent.
In other states, like Delaware, interest rates are not capped, so the lender has the right to charge you as much interest as they deem fit. Customers with poor credit, lagging job histories, or other problems may come with a certain amount of risk. Thus, the lenders seek to protect themselves pending the individuals cannot pay the money back within a set period.
In Delaware, title loans can last six months (180 days) and roll-over if need be.
A state like Georgia has more standard terms for its title lending options. Most loans must be paid back within 30 days, but the borrower usually has an option to extend the loan period granted they cannot pay the funds back within that time. In addition, there are no caps on the loan amounts, so borrowers can get as much money as they want.
Interest rates are typically capped at 25% during the first three months. These interest rates fall to 12.5% once those months are up.
Take Matters into Your Own Hands
From here, you're probably going to want to research the laws in your own state. We've given you some basic information that should put you on the right track, but when it comes to finding the right lender, it's important to study your options and make the best choice for yourself.
Go online and look at the rules of your state. If title loans are permitted and you need cash quickly, a title loan could be a fast fix to your financial problems
Car Title Loans in California
If you are thinking about getting a title loan, give us your time and consideration. Based in California, we've been working for years to help people just like you get the cash they need to tend to life's everyday problems. We know that things happen we can't always predict. Everyone needs a little financial assistance now and again, and we'd like to be the ones who are there for you.
5 Star's minimum loan amount is $2,600. We have several plans available designed to assist every individual that comes to us, regardless of their dilemmas or needs. Applicants' approval is determined by our specific credit criteria. We examine several different factors including your credit history and your ability to repay the loan. We also look at your vehicle's overall value to determine your qualification.
If you have poor credit or no credit score to your name, don't let that worry you. We can still help. Please give us a call today!
References: