5 Star Car Title Loans in Victorville
Start your loan process at this Registration Services Center – How it works
5 Star Car Title Loans Google Reviews:
If you are looking for speedy processing of title loans in Victorville, CA, 5 Star Car Title Loans is your best bet. I had an enjoyable experience with them, so I am sharing this right now.
Charleen B.
11:30 17 Jul 21
I need a fast loans for my business and I am grateful that i chose 5 star car title as my loan company . I need it on urgent basis and they answer all of my questions and made the procedure smooth. They approved my loan in just 24 hours. I am really thankful to them. Thanks!!!
Shelby Colton
09:22 29 Jun 21
It has been a wonderful experience and I was treated well and with respect by them. I was wondering if I could receive some more money for my loan. Best title loans near me...
Mcmillan Jamarion
17:49 04 Jun 21
I want to thank them for helping me get the best interest rates at title loan. The loan was approved the day after it was requested. I am impressed with their online title loan service.
Casey Parkerr
06:05 03 Jun 21
They were responsive and professional, and that made the entire emergency loan with bad credit process much easier. I highly recommend them.
Margie Greer
08:38 31 May 21
I and my wife need a fast loans and I am grateful that we chose 5 Star Car Title Loans as our loan company. We need it urgently and they answer all of our questions and made the procedure smooth. They approved our loan in just 6 hours. We are really thankful to them. Thanks!!!
bernice padilla
18:02 26 May 21
title loan are awesome if you are looking for quick cash and don't have where to turn. Helped me right away with such professionalism. Best in the industry!!!
Darryl haymond
20:48 11 Mar 21
I took my title loans from 5 Star Loans because it's the most affordable compared to others.
Aubrette Querry
06:29 20 Feb 21
So glad to have come to 5 star. A real positive experience, truly nothing bad to say about them..
Caroline Graham
07:52 11 Feb 21
So glad to be out of that tough financial spot I was in! It's all thanks to the title loan I got from 5 Star! They were incredible in how they treated me and how fast they did everything..
Stephan Joanna
21:52 19 Jan 21
I love this place so much. 5 star car title loans are so efficient and straightforward with the loans.🙂
Durgan Raymundo
06:03 06 Jan 21
Very friendly people and the service was really great! Thank you for all you did for my family! Will definitely recommend to others who need title loans...🤗
I am new to title loans and these guys made it very easy and simple. 5 Star Loans thank you for all your help with the process. You guys rock.
Thomas Ashley
07:21 25 Sep 20
Amazing , knowledgeable and very easy to understand. They also got me approved very fast for an instant loan and exactly for what I needed.
William Lynch
16:28 30 Aug 20
I've thoroughly sifted through title loans in Victorville. Three companies made it to my cut. I visited each one of them, but the wonderful staff of 5 Star Car Title Loans sealed the deal.
Kelly Strong
07:42 27 Aug 20
I'm looking for a loan company in Victorville, and my neighbor recommended 5 Star Car Title Loans. I searched for their office, went there, and got my loan in just a few hours! Wow!
Brandon Powers
09:12 31 Mar 20
A bad credit score is bad, but I can still get an online loan through 5 Star Car Title Loans. They know I'll make my payments on time.
Gretchen Thibodeau
12:55 18 Feb 20
I called 5 Star Car Title Loans because I needed money but didn't know how to get it. They helped me apply and helped me get the money with a car title loan online.
Allyson Eslinger
11:47 10 Feb 20
This is the best place to get your registration done is very affordable and everything is done instantly like renewals title changes vin verification boat and trailer sticker, is very hard to find an office like this one I recommend it to everyone reading this.
Roamer Morataya
19:03 29 Jun 18
About This Location
Geizi Insurance Services provides registration services for 5 Star Car Title Loans customers. The store is located at 15208 Bear Valley Rd. #185, near the intersection with Balsam Ave. If you live in Victorville and in need of registration services, stop by Geizi Insurance Services that works with 5 Star Car Title Loans in Victorville. Geizi Insurance Services provides our clients with unmatched customer service. 5 Star Car Title Loans does not issue loans at this location.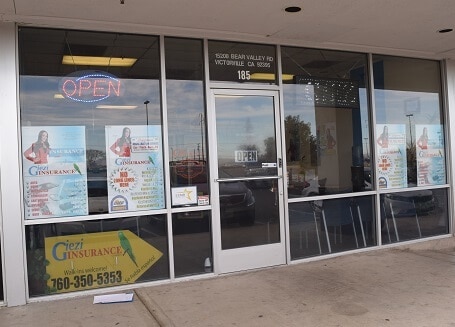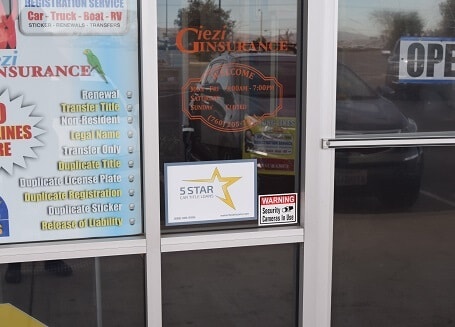 5 Star Car Title Loans in Victorville
Getting fast loans in Victorville isn't hard at all if you own a private car. When you send in an online car title application to 5 Star Car Title Loans in Victorville, you might be approved for an auto title loan beginning at $2,600.
Do I need Good Credit to Get an Auto Title Loan?
No, you don't need a good credit history to be approved at 5 Star Car Title Loans in Victorville for a fast loan. Everyone has money problems from time to time, so we understand how easy it is to get a bad credit score. We want to help you with a fast loan, so you can stay caught up on your bills. Send us your application and let's see if we can pre-approve you today!
When Is the First Payment of Car Title Loans Online Due?
You will need to have your first payment ready to pay 30 days after the date on your contract. From thereon, your payment will be due each 30 days. If you are ready to pay your auto title loan back early, you can do so without paying a prepayment penalty. Contact 5 Star Car Title Loans in Victorville today!
Why Is an Auto Title Loan Better than a Payday Loan?
At 5 Star Car Title Loans in Victorville, we give auto title loans for longer terms. Instead of the standard two weeks that you get with payday loans, you get a longer time to repay auto title loans. As you pay a sum of your total loan each month, you'll see the amount you owe go down until you don't owe anything. That is not the way payday loans work though. With payday loans you can keep paying and paying and still have more to pay! That's because every time that you want to take a new payday loan, they start over. As they keep starting over, it's very difficult to ever get them paid off. Apply for online loans for bad credit and get money quickly.
Can My Spouse Cosign on a No Credit Check Loan?
That is fine, so long as you spouse meets our credit requirements. There are several options for helping you get car title loans online. Having a spouse cosign is just one of those options that might work for you. Call one of our officers to hear about more options.