5 Star Car Title Loans Google Reviews:
I recommend them for auto title loans! I ended up getting the amount of money I needed and there is no prepayment penalties which is great because I plan to pay it off fast!
Lucy Flores
10:06 26 Nov 20
I have been to other auto title loans companies in the past. Will never go any where else other than 5 Star. Amazing service and they are super professional.
Edward M Carden
10:17 28 Sep 20
The biggest obstacle I faced with getting a loan is because of my low credit score. Thankfully These guys were able to help me out. Great service and customer care.
Irving Barron
16:46 30 Aug 20
After years of taking title loans in Yucaipa, I'm sad I tried 5 Star Car Title Loans very late. Had I tried it with them earlier, I would have gotten lesser interest rates.
Christian Velez
08:16 01 Jul 20
Our air conditioner at home got busted, and I need to replace it immediately. I can't take any more loans in the bank, so I checked bad credit loans in Yucaipa and bumped into 5 Star Loans. It was a fast transaction with them!
Dennis U Obrien
07:27 15 Jun 20
I took a title loan with 5 Star Car Title Loans three years ago, and I've been taking one with them until now.
Ronald Brown
07:52 31 Mar 20
Getting into the commercial area of Yucaipa is a hassle. I'd rather get auto title loans with my laptop and not go into town.
Mark Bradley
06:55 15 Feb 20
A fellow I work with told me how to get a vehicle equity loan. He said he's done it a few times and it always worked out good. I agree - it's a good way to get fast cash.
Dale J. McCrary
11:25 06 Feb 20
I'm kinda embarrassed to even talk about this, but I had spent every cent I had when my kid needed some items for school. What could I do? I couldn't pay for them but I couldn't let him go to school without his supplies. I heard about loans on car titles, so I decided to do that. I was glad that 5 Star Car Title Loans kept my personal details a secret and I don't have to worry about anyone

knowing about my money troubles.

read more
Shawn Garner
22:05 18 Oct 19
Kiara was a fantastic help in acquiring a loan that I didn't really want, but desperately needed to help with immediate needs. She made the process very painless and worked with me to get the loan submitted, approved, and funded in a matter of minutes. I hate taking loans, but it was necessary, and she was a tremendous help. Thanks Kiara!
Paul Danielson
01:47 25 Sep 18
About This Location
Aragundi Auto Registration provides registration services for 5 Star Car Title Loans customers. The store is located at 32999 Yucaipa Blvd. Ste 120, near the intersection with 12th St. If you live in Yucaipa and in need of registration services, stop by Aragundi Auto Registration that works with 5 Star Car Title Loans in Yucaipa. Aragundi Auto Registration provides our clients with unmatched customer service. 5 Star Car Title Loans does not issue loans at this location.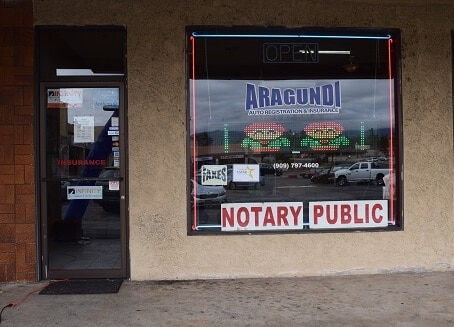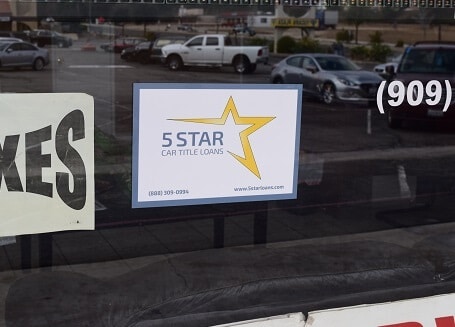 5 Star Car Title Loans in Yucaipa
Are you living in Yucaipa, California but you don't have enough money to get through until your next paycheck comes in? If you own a car, you are eligible to apply for a fast loan from 5 Star Car Title Loans in Yucaipa.
What Is an Auto Title Loan?
When you apply for an auto title loan at 5 Star Car Title Loans in Yucaipa, you are requesting a personal loan based on your vehicle's value. The value of your auto is what will serve as security for a fast loan. While you remain the registered owner of your car, we will keep your car title until the auto title loan is repaid. Similar to a car that is financed, you will still be able to drive your car while making the monthly payments. When the contract is fully repaid, you get your car title back.
Why Are Auto Title Loans Better than Payday Loans?
There are several factors that make auto title loans a better deal, depending upon your situation. Auto title loans are longer term, so you can make monthly payments on the full amount. One drawback of payday loans is that they are usually for a shorter time period. When you want to request another payday loan, the payments start all over, meaning that it is very hard to ever get them paid off. Auto title loans, on the other hand, encourage you to pay the entire amount off by the end of the terms so you are never left owing money. Call us at 5 Star Car Title Loans in Yucaipa for more details.
When Is the First Payment on No Credit Check Loans Due?
When you sign your contract for no credit check loans or any other loan with 5 Star Car Title Loans in Yucaipa, your first payment will come due in 30 days. So basically, the due date depends on when your contract begins. The agents working at 5 Star Car Title Loans in Yucaipa will explain everything to you.
What Are the Requirements for Bad Credit Loans?
For bad credit loans, you'll need to supply us with your ID, your car title, a statement of your income and expenses that will prove your ability to pay. We might also need to see your car insurance documents or other paperwork, but we can let you know if that is needed.