How Long Does It Take to Get a Title Loan?
We all go through tough times. Going through life with little to no cash can be very difficult. If you're stuck in a rut and you have nowhere to turn, now may be the time to examine title loan options.
How Quickly You Can Meet the Qualifications
If you're wondering how long it may take to receive a title loan, it can depend on how quickly you can meet the qualifications. Some of them include:
• Adequate credit
• A means of repayment
• Clear title on your vehicle
After accepting our conditions and loan terms you can usually get your money within 5 hours*.
*After the application process is complete and the Underwriting Department has reviewed it, you may be given a conditional offer.
Funding time is dependent upon the availability of 5 Star Car Title Loans offices and time necessary to complete your loan process.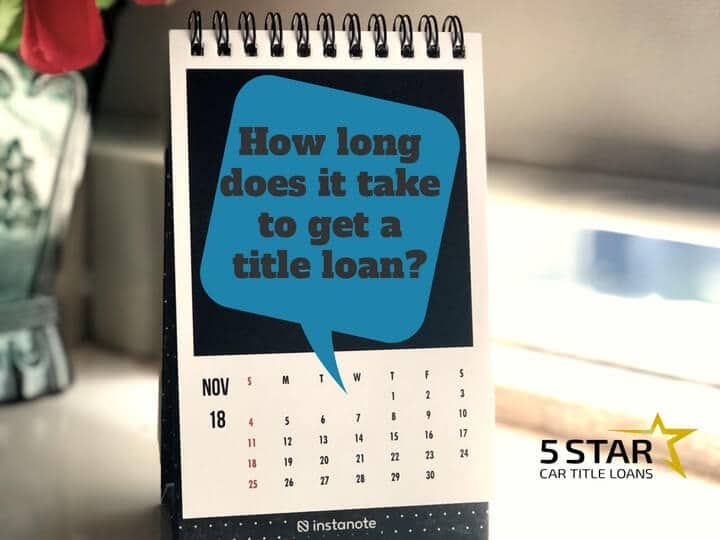 After loan approval, the typical funding time ranges between 3 and 5 hours
Meet the Qualifications:
A. Adequate Credit
Your credit does not have to be stellar in order to obtain a title loan. It's not like a 700 score is required, but you will need to show that you have a good repayment history. The lender will need valid proof that you are responsible and that you haven't fallen behind.
Before applying for a title loan, take some time to examine your credit history – It's free! Get an idea of your score and go from there. If it's solid enough and you're in need of money now, your title loan could be right around the corner.
However, if your profile could use a little sprucing up and you have some time to spare, see what you can do to fix it. Try paying off some of your debt or work some extra hours over the next week so you can have a little more money in your bank account. Making good payments on your credit cards could also help.
B. Means of Repayment
In plain terminology, this usually means a job or employment of some kind. The lender wants to be assured that you're not going to fall behind or fail to pay off your loan in the time allotted, so if you don't have a job or regular income, that could wind up getting in the way.
If you're employed or enjoy a regular income stream, you're already ahead of the game. Otherwise, this may be the first thing you'll need to work on.
If you're lacking significant income and need a job, see about landing whatever position you can in the meantime. Whether it's retail, administrative work, or something completely different, grab something that won't tout a lengthy hiring process. With a little time on the job, you're likely to improve your prospects and your appeal to the lender. They'll feel more inclined to trust you and give you what you need.
C. Clean Title on Your Vehicle
This is the most straightforward factor of qualifying for any title loan. If you've already taken a loan out in the past, and another lender presently owns the title of your vehicle, you will need to pay that loan off or use our third party payoff option. If you share title ownership with another person, you will need to get the title signed off from them or have them co-sign on the loan. To garner the money, you usually need to be the sole owner of your vehicle.
Receive a Title Loan Quickly
Once you have everything you need, you should go ahead and call us. If the money you'll get isn't enough to satisfy your financial needs, see separate loan options.
From there, you're ready to get your money. In most cases, you can get your title loan in as little as 24 hours. That's right – just one day and you'll have your cash in hand. That's what makes title loans such great emergency tools. You need money fast, and you'll get it fast.
In most cases, you can get your title loan in as little as 24 hours
Payment Considerations
Before applying for your loan, make sure you can fully pay everything back by the time your loan conditions expire.
If you think you'll need more time, research title lenders to see if any of them offer extensions. Some will allow you to extend the repayment period by a certain amount of days, though this is likely to come with heavy interest rates. As a result, you'll wind up paying far more than what the original loan was for, so keep this in mind when you first apply.
Apply for a Title Loan Today
If you have a car and you're looking for some quick cash, you're probably in the market for a title loan yourself. If that's the case, we'd love to help you out.
We are 5 Star Car Title Loans. Stationed in California, we've been helping people just like you get their fingers on quick cash for years. We know how hard life can be when you don't have adequate funds in the bank. If you've got children or you're supporting a family, the difficulties add up even more.
5 Star's minimum loan amount is $2,600. We provide several loan options designed to assist you regardless of your needs. Applicant approval ratios are determined predominantly through our credit criteria and we will examine several different factors when considering your situation, including your ability to repay the loan and the overall value of your car.
If your credit isn't high, please don't let that deter you. Applicants with poor credit or no score at all may still qualify for a loan at 5 Star Car Title Loans.
If you need money quickly, please give us a call. Our experts are waiting by the phone to help you. Don't let an ugly financial situation bring you down.
Everyone deserves a second chance, and we would love to be the ones that give it to you. Get in touch with us today and let us bring an end to your worry.
References: