How Old Can a Car Be to Get a Title Loan?
So, can you get a title loan for older cars? Absolutely!
As long as you have free title to the car and meet the other requirements which we'll discuss later, there's nothing stopping you from rolling out of a title loan office with a fist full of cash.
Here's what you need to know about title loans for older cars.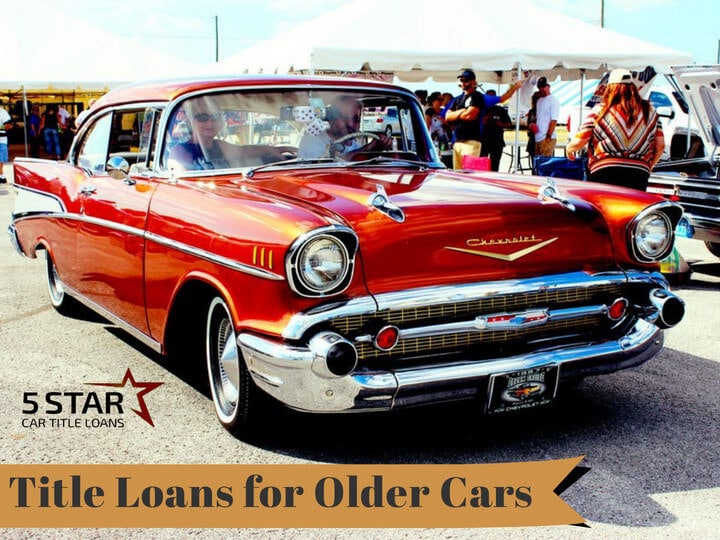 In fact, having a classic car can actually be a bonus when taking out a title loan as these cars are often worth more money
How Old Can Your Car Be?
The age of the car doesn't matter as much as the value of it. Title loan companies are largely unconcerned by the age of the vehicle. Instead, these lenders are much more interested in how much the car is worth because that's what determines how much money you can qualify for (as long as you can repay the loan, of course).
An older car that has a worth and is also safe to drive is still a great option for a title loan
How Much Cash Can You Get with a Title Loan for Older Cars?
When it comes to auto title loans for older cars, you can get quite a lot of money. The most respected lenders in US, like 5 Star Car Title Loans, offer anywhere from $2,600-20,000. Depending on what kind of car you have, and what year, you can still probably get a loan for it. It will really depend on the specifics of the older car you have and on the lender's credit criteria.
What Documents Do You Need to Get an Old Car Title Loan?
To get a title loan on an older vehicle you'll need pretty much the same documents and be able to meet the same requirements as everybody else.
For the most part, these are the only major qualifications you'll need to walk out that door with up to twenty grand of cash in your hands:
Reside in the state of California

Have a valid Driver's License

Vehicle title that is free and clear of any liens
The list of required documents is pretty short, so you aren't likely to have any trouble when applying for a classic car title loan unless you have no income, are less than 18 years old, or don't have free title to the vehicle.
Old Vehicle Title Loan Requirements
Even with older cars, you'll still need the same requirements as mentioned above to be approved for a loan. When it comes down to it, the most important thing really is that you have documentation showing proof of an income and a free title to the car.
Getting title loan with older car isn't any more difficult than getting a newer one!
Find Out How Much Your Old Car Is Worth
For many of you as proud owners of classic cars, whether it's an old Chevy, Ford, or anything under the sun, putting a price on your car will be difficult. After putting in so much work to get a truly classic car, it can indeed seem priceless to you. That's why many classic car owners choose to opt for a title loan when in need of cash instead of selling the car.
After so many years, these cars become a part of you, one that you never want to get rid of. Luckily, you don't have to. Title loan for older cars are perfect for getting the cash you need quickly while still being able to keep that classic. You will, however, need to produce some sort of figure on the car's value to determine how much money you'd be eligible for taking out in the loan.
Tip! The easiest way to pull up the worth of your classic ride is to examine the blue book value. However, for some classics, it can be more difficult to pinpoint an accurate value.
There is a point system in place for valuing classic automobiles. When needing to find the value by inspection, run it against this metric:
Category 1: 90+ point vehicle (Perfect)
Category 2: 80-89 point vehicle (Excellent)
Category 3: 70-79 point vehicle (Fine)
Category 4: 60-69 point vehicle (Very Good)

Category 5: 40-59-point vehicle (Good)

Category 6: under a 40-point vehicle (Driver)

By using this metric, you can rate your vehicle by calculating the points for the quality and condition of the interior, exterior, and internal mechanics like the state of the engine.
You will, of course, want someone like a classic car dealer or knowledgeable mechanic to do this for you and present you with documentation showing the estimated value of the vehicle. You can then use this documentation to bring with you to the title loan office when applying.
How to Apply Online for Old Car Title Loans
Applying online for car title loans for older cars is a relatively simple and straightforward process.
The approval process is lightning fast and as long as you meet the requirements and have all of the appropriate documents, you can ride out of there still driving your classic car with the satisfaction of having the money you need.
Simply bring in all the documents discussed previously, and you can walk out of a title loan office with cash in no time.
Classic Car Title Loans
5 Star Car Title Loans is serving clients all across US. No matter where you're located, 5 Star Car Title Loans is worth the trip and offers some of the most flexible terms on title loans for older cars.
One of the best things about being a 5 Star Car Title Loan customer is that you'll be well taken care of. You'll get access to the money you need without having to give up that sweet classic automobile
A classic car title loan can be just what you need to free up cash in an emergency or just when you've got your eye on something you can't quite afford at the moment. Why wait? Life is short and 5 Star Car Title Loans empowers people with the money to make dreams come true.
5 Star Car Title Loans has the cash you need and will work with titles on older cars, call today and get your money when you need it the most.